posted by Joe on Tuesday, August 19, 2008

Back in May I
posted
about the
proposed plans (PDF)
for the
Sheppard Ave. LRT
(part of
TransitCity
) and how they
included bikelanes
:


Now it's time for the
Eglinton Avenue LRT
to be discussed:
From the Project FAQs (PDF File):

Q14) Will there be bike lanes on any portion of the Eglinton Crosstown LRT route?

Bike lanes will be considered for inclusion along or adjacent to the entire route. In many instances, bicycle routes currently exist parallel to Eglinton Avenue, and could potentially serve as the bicycle path along the corridor.





We Want Your Input




We are having five Open Houses to explain the project, to show you what we hope to achieve, to get your comments, and to answer any questions you may have. Please drop in any time between 6:30pm and 9:00pm at any of the Open Houses. We look forward to meeting you there.





Tuesday, August 19




6:30pm to 9:00pm


Leaside Arena, 1073 Millwood Rd. (Map)



Monday, August 25




6:30pm to 9:00pm


Humber Valley United Church, 76 Anglesey Blvd. (Map)



Wednesday, August 27




6:30pm to 9:00pm




Don Montgomery Community Recreation Centre




(Formerly the Mid Scarborough Community Centre)


2467 Eglinton Ave, E. (Map)



Thursday, September 4




6:30pm to 9:00pm




Richview Baptist Church


1548 Kipling Avenue (Map)
These
Open Houses
are perfect opportunities to let City Staff and Politicians know that along with transit, bikelanes are cheap and easy infrastructure upgrades that can help the city meet environmental objectives.
I'll be adding these Open Houses to the
BikingToronto Events Page
, so you can always
check there
for them too.
[via
BikeToronto
, which has a great post about this too]
Labels: infrastructure, news, transit
posted by Joe on Friday, May 16, 2008

Metrolinx

(the former Greater Toronto Transportation Authority) is currently undertaking an ambitious project to create a comprehensive transportation plan for the entire Greater Toronto and Hamilton Area, including transit, cars, and active transportation (walking and cycling).
More at
Spacing Toronto
.
Labels: infrastructure, news, transit
posted by Joe on Monday, April 28, 2008

The TTC went on
strike on the weekend
, but is back in business now. I saw lots of people
biking the strike
, and just found this succinct and pretty funny video explaining the causes of the strike:
posted by Joe on Friday, April 18, 2008

It's something that should happen all the time, but the threat of a TTC Strike brings out the carpool plans and the
extra bike parking
:
The Hospital for Sick Children has organized an internal electronic message board so staff – about 6,000 people – can organize car pools, said Helen Simeon, director of public affairs.

The hospital is installing extra bike racks and encouraging staff to cycle to work

. ...

As part of the [Royal York] hotel's contingency plan for snowstorms and transit strikes, car-pooling assignments are already drawn up according to where staff live and the shifts they work, and

additional bike racks will be available for employees.
More at
the Star
.
TTC Strike Posts:
Photo by lostpup.
posted by Joe on Friday, April 18, 2008

Transit Toronto runs down
all the "traffic management" measures the city are enacting come Monday if there is a TTC Strike, including making some curblanes of roads
cyclists only
:
If a strike occurs, the City will extend the current bike-path network. It will designate the curb lanes on both sides of

Bay Street

between Queens Quay West and Yorkville Avenue,

Dundas Street East

between River Street and Broadview Avenue and

Queens Quay West

between Lower Spadina Avenue and Yonge Street

for bicycles only

. The City will ban stopping on all "bicycle-only" lanes.
We all know how well "designating" traffic lanes works - I'd love to see some kind of barrier blocking off non-cyclist traffic from these lanes (especially Bay) - even if it's just pylons, or anchored ballons, or
anything
really.
More at
Transit Toronto
.
Labels: infrastructure, news, transit
posted by Joe on Thursday, April 17, 2008

It looks like the
TTC will be striking
(if there isn't a deal reached this weekend) on Monday.
Get your friends to
Bike the Strike
with you! Here's a
handy guide
for those who have never biked to work before:
posted by Joe on Wednesday, April 16, 2008

It sounds like there are rumblings that the talks between the
TTC and a lot of their employees are breaking down
, and a strike may after all be imminent.
Since 1.5 million people take the TTC every day, and it would be "hell on wheels" if those people got into cars, those people should "
Bike The Strike
".
The city is paying
a little bit of attention
to the bike possibility too:
What was inserted into the plans to ease the mayor's concerns? In just three places downtown—on Queen's Quay between Spadina Avenue and Yonge Street, on Bay Street between Queen's Quay and Yorkville Avenue, and on Dundas Street between Broadview Avenue and River Street—the curb lanes will be converted to bike lanes for the duration of any strike...

In other words, the grand plan to assist cyclists during a TTC strike amounts to nothing that cyclists don't already have, are supposed to have, or have had in the past. Instead of this mostly empty gesture, why not make a bold statement and allow cyclists to Take The Tooker along Bloor Street and Danforth Avenue for the duration of any TTC strike? If combined with temporary lanes on Yonge Street, many more people may decide to ditch the car for a relatively speedy crosstown cycle in the safety of a dedicated lane. That would help everyone.
More at
Torontoist
.
Having AT LEAST the curblanes of Bloor, Danforth and Yonge reserved for cyclists only could not only give people a fast route downtown if a strike happens, but would attract a ton of new cyclists!
posted by Joe on Monday, March 31, 2008

City Council discussed it
earlier today
, and
the Star has the story
:
For cyclists, the curb lane on Bay St. from Queen's Quay to Yorkville will become a bike-only lane for the duration of a strike. So will the curb lanes on Queen's Quay from Lower Spadina Ave. to Yonge St., and Dundas St. E. from River St. to Broadview Ave.
More at
the Star
.
I'm wondering if City Council saw the
Bike The Strike
page. They all got a lovely email last week about it. :)
Labels: infrastructure, news, transit
posted by Joe on Friday, March 28, 2008

TTC employees, members of the Amalgamated Transit Union Local 113, will be in a legal strike position as of midnight Monday, potentially affecting 1.5 million people who use the TTC every day.
Instead of clogging the streets with more cars (the last thing Toronto needs),
here's a handy guide to biking to work
for those who haven't tried it yet:
bikingtoronto.com/bikethestrike
Share this with of your friends - let's
fill the streets with bikes
if the TTC strikes!
If you have an email program like Microsoft Outlook open,
this email link
should give you a pre-written
email
for sending the
Bike The Strike
webpage
to your friends
.
posted by Joe on Thursday, January 17, 2008

There are a lot of BIAs in Toronto who see cyclists as a nuisance (I'm thinking specifically of the
Yorkville BIAs exclusion of cycling infrastructure
in their multimillion plans), but that isn't the case with the
Roncesvalles Village BIA
.
Recently, plans have been unveiled for a
reconfiguration of Roncesvalles
that placed more emphasis on making it a people-friendly place (with more trees, more cafe space, and wider sidewalks) rather than a collection of parking spaces.
One of the significant features of the plan is "sidewalk bumpouts" which will bring the sidwalk almost all the way out to the streetcar tracks at some intersections - great for people and transit, but perhaps not so great for cyclists trying to get through.
So, they went back to the drawing board and came up with 3 options:
The planners are considering three

options (PDF). The first has no cycling provisions, such as shown in the picture mentioned above. No one appears to be in favor of this option, and the BIA would strongly oppose any option that made no provision for cyclists.

The second (see image, right

) would simply continue the

"sharrow"

zone, leaving a 1.6 metre space between the curb and the rail. This would mean that transit riders would not be able to step directly onto the streetcar, but at least would not have to cross a traffic lane. The third option calls for a 1.5 metre "bike trough" (click

here (PDF) for an illustration) that would cut through the curb extension itself, mixing the pedestrian and cycling zones and allowing transit riders to board directly from the curb.



At a recent meeting with businesses and residents, the community expressed its preference for the second option out of what has been proposed.



Do you have any ideas on how best to balance the needs of cyclists with those of other users of the road? Please share your opinion by
emailing the BIA
or your local residents' association,
or leaving a comment
.
Labels: infrastructure, news, transit
posted by Joe on Thursday, November 22, 2007

The new
GTTA
hasn't completely forgotten about bikes in their plans for Greater Toronto transit organization, co-ordination, and probably a few other "-ation" words:
In August, the GTTA approved a first "quick-win" list of projects, including: adding 20 new double-decker passenger coaches to the GO Lakeshore line by 2009 ($60-million); adding 10 new double-decker buses on the Highway 407-403 corridor by 2009 ($9-million);

and adding 1,000 new bike racks to transit vehicles.
You can see
the full GTTA Report
or just a
summary chart
of all the recommended projects.
From
Posted Toronto
.
Labels: infrastructure, news, transit
posted by Joe on Thursday, April 19, 2007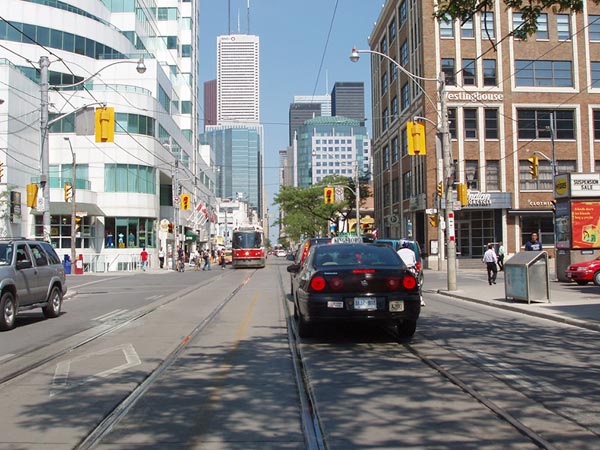 I don't see anything in the news about last nights
King Street Transit Mall Community Consultation
other than
this piece in the Post
... so I'm wondering if anyone besides autocentric and narrowminded business owners went (please note that I'm not calling all business owners autocentric and narrowminded - just the ones who think that cars go to restaurants and shows and buy stuff... it's PEOPLE who do these things... PEOPLE!):
"I have yet to decide if this is a good or bad proposal. But it has many challenges ahead of it, especially for restaurants, especially for residents," Mr. Vaughan said. "The TTC needs to slow down and listen to the community."

And the community -- at least judging by the attendees at last night's meeting-- was not pleased.

One attendee at the meeting said: "This is a very difficult place to undertake this. I am surprised that they chose this street to attempt it. This is madness."

He said the plan could ultimately close down the theatres in the entertainment district -- one of Toronto's most popular tourist destinations -- because patrons will be unable to reach the theatre by car.

A lawyer representing the Holiday Inn on King and Peter streets, asked Mr. Giambrone how a tourist unfamiliar with the city could reach the area and park.
Make an area about people (not cars) and reap the financial riches. If you're afraid of what you don't know, let these links educate you:
posted by Joe on Wednesday, April 18, 2007

TTC Chair Adam Giambrone
mentioned at the
NOW Bike Forum
last week that the TTC would try to incorporate bikelanes into any plans for a
King Street Transit Mall
...
Well, tonight
(Wednesday April 18th, 2007 at 7:30 p.m
.), there will be a Community Consultation Meeting regarding Dedicated Streetcar Lanes on King Street West.
The meeting will be held at City Hall, 100 Queen Street West, in Committee Room 2 on the second floor.

Councillor Adam Vaughan and Toronto Transit Chair, Councillor Adam Giambrone invite you to discuss a proposal for a temporary, reserved right-of-way on a four to five block section of King Street for the summer of 2008. The area under consideration is the Entertainment District on King Street West.
Please attend this meeting and invite your neighbours and friends. If you are unable to attend and would like to voice your opinion or concerns, please contact: Angela Kinnear, Executive Assistant, Councillor Vaughan, at Telephone: 416 392 4044 Fax: 416 392 4130 Email: akinnear@toronto.ca
If you have a chance, get to the meeting and let them know you want bikelanes. Think about how cool that little diagram at the top of this post would look with nice bikelanes between the streetcar tracks and the sidewalks / car traffic.
If you can't make it, phone (416-392-4130) or
email
Councillor Adam Vaughan's assistent Angela to let them know... especially if you live in Adam's Ward!
More info on the King Street Transit Mall:
Labels: infrastructure, news, transit
posted by Joe on Wednesday, March 28, 2007

Here's some clarification from the City of Toronto about their advice for cyclists during the
Dundas Streetcar Track Reconstruction
.
Originally
, it sounded like the City was asking that cyclists walk their bike through construction zones, but thanks to the efforts of Pauline Craig,
the BUG co-ordinator
at the City (who emailed the reconstruction people about it), things have been clarified:
---

The Dundas streetcar tracks are being reconstructed from Broadview Avenue in the east to Howard Park in the west, including the DVP and Sorauren Bridges. During track work, only a single curb lane in one direction will be maintained. East of Victoria St., one east-bound lane will remain open, while west of Victoria St., one west-bound lane will remain open. Since these lanes will be of a reduced width, "Narrow Lanes" signs will be erected, to advise cyclists and motorists of the need to travel in 'single file.'




On the Sorauren bridge, one lane in each direction will be open until approximately September, when only the west-bound curb lane lane will be available. "Cyclists and motorists use caution" signs will be used wherever a designated bike lane is occupied due to construction activity.

The DVP bridge will be closed to traffic in both directions for about three months, probably starting in May. Only one sidewalk on one side will be kept open, for pedestrian traffic. Cyclists using the bridge will be advised to walk on the sidewalk. As an alternate route, west-bound cyclists may divert to Gerrard St. just west of Broadview via Munro, while east-bound cyclists can reach Dundas from Gerrard via Hamilton. (These one-way streets are just west of Broadview.)

---
So, basically - in most places there will still be one lane open, which cyclists can ride in. In areas where both lanes are taken up with reconstruction work and cyclists have to be diverted to the sidewalk... THIS is where the City recommends we dismount and walk.
It makes complete sense. Few things are more annoying than cyclists on sidewalks.
Questions about the Dundas Reconstruction can be directed to
dundastracks@toronto.ca
or 416-392-6900.
posted by Joe on Saturday, March 24, 2007

Some interesting car-free ideas for you:
There's been a few items in Toronto news lately about plans to not only
narrow Yonge Street
between Bloor & Front, but to change part of King West into a
transit-oriented street
temporarily next summer as a trial.
The Yonge Street idea has the street narrowing from 4 lanes to 3... providing wider sidewalks to encourage pedestrian traffic (which is in turn good for business).
Yonge Street south of Bloor is one of the most vibrant (if not THE most vibrant) streets in Toronto, yet it does not have any parking for this entire section... this is something that should be remembered by merchants on King Street.
The
TTC
wants to try out a plan on King West (probably somewhere between University and Spadina... so the Entertainment District) where the streetcar lanes become Right-of-Ways, and the sidewalks are widened into the curblanes on alternating blocks, with the other side of the streetcar tracks being where car traffic can go.
This is actually a TTC
idea from 2001
(really good background info at that link) - one which James Bow of
Transit Toronto
calls
"one of the most ingeneous suggestions the Toronto Transit Commission has made in a long time".
The point of this is that more people use the King Streetcars than drive on King, yet the streetcars often move slower than pedestrians because of traffic congestion... making King Street for transit and pedestrians will encourage economic activity and help fight traffic congestion.
I really hope that both of these ideas come to fruition - I haven't heard a lot of objection to the Yonge Street plan, but there is
some (of course) to the King Street idea
. The King Street one is really important, because if the
TTC
is successful in having a trial-run of this in the summer of 2008, Torontonians and King Street businesses will see that the world will NOT end if you plan for people and not for cars... that MORE people will spend time and MONEY on King Street, because it will be a more pleasant place to be.
I can only hope that it becomes permanent on King and other major shopping streets as well.
(King Street illustrations courtesy of Transit Toronto. You can click on them for larger versions.)
posted by Joe on Wednesday, March 21, 2007

Dear Politicians,
Want to get the most bang for your political dollar? Here's a simple math lesson for you:
Cost of Infrastructure:
One km of Subway: ~$250,000,000
One km of "Light Rail Transit : ~25,000,000
One km of Bikelanes: ~$100,000
Cost of Vehicles:
Subway Train (6 cars): ~$18,000,000
Streetcar: ~$7,500,000
Bike: ~FREE
Everyone who wants to bike buys a bike.
They will buy bikes... as soon as they feel safe enough on the streets. Build cycling infrastructure and watch the number of cyclists in Toronto explode. It's the easiest way of becoming your oft-mentioned
"Greenest City in North America".


Labels: infrastructure, politics, transit
posted by Joe on Friday, March 16, 2007

From the City of Toronto:
Councillor Fletcher's office has requested that the Toronto cyclist community be kept informed of upcoming construction work on Dundas Street. The Dundas streetcar tracks are being reconstructed from Broadview Avenue in the east to Howard Park in the west, including the DVP and Sorauren Bridges.

For safety reasons, cyclists are encouraged to dismount and walk on the sidewalks within each of the construction zones.





If you have any questions or comments, please do not hesitate to write (

dundastracks@toronto.ca

) or call

416-392-6900

.
There's a couple places on the City/TTC website that outline some of the construction schedules for you:
The 2nd PDF shows a couple stages of streetcar diversion - so it's my favourite.
They re-did my streetcar line of choice (the 506 College) a couple years ago, and the streetcar diversions were making my commute to work so lengthy that I tried cycling... and the rest, as they say, is history. :)
posted by Joe on Thursday, March 08, 2007

Just following up from my post from yesterday...
I wondered if the
320 new low-floor accessible buses
the TTC was scheduled to receive delivery of in 2007 would have
bikeracks
installed on the front, making it much more practical for Torontonians to combine cycling and the TTC on a trip through the city. When the
Rack it and Rocket
program was
saved back in September 2006
, it was expanded so that bikeracks would be standard equipment on all new TTC buses.
Councillor Joe Mihevc
, who I cc'd on
the email
to Adam Giambrone, got back to me first thing this morning with the good news...
there will be 320 new buses on Toronto streets this year, and ALL of them will have bikeracks!
Thanks for the quick reply Joe. Cyclists around Toronto will love this news.
Labels: infrastructure, transit
posted by Joe on Wednesday, March 07, 2007

So, this afternoon I got curious about if there were indeed going to be
bikeracks
on all the new buses the TTC is getting, as I posted on
BikingToronto back in September 2006
:
The great news is that the following three proposals were passed:




1)

Adopt as a policy principle that bike racks be included on all buses


and a report be made for putting them on street-cars.




2)

All new buses have bike racks.


3)

Staff report back on retro-fitting existing buses.
Since I hadn't heard "boo" (as the kids say) about it, but see that the TTC's employee newsletter, the Coupler is reporting that the TTC is
getting 320 brand-new "low-floor" buses
in 2007. These in theory should all have bikeracks... I couldn't figure out who to contact about it, so I emailed
Adam Giambrone
, former head of the
Toronto Cycling Committee
, and now head of the TTC.
I'll let you know if I hear anything - 320 extra buses with bikeracks will do wonders for
"intermodal" transportation
in Toronto. Let's hope it happens.
Labels: infrastructure, transit
posted by Joe on Wednesday, January 10, 2007

You may remember that
my first post of 2007
was about progress on the
Metropass Affinity Program
- especially since the exact name and concept was adopted by the
mayor
's campaign team as part of his transit platform in the run-up to the fall election.
I met with TTC Chair
Adam Giambrone
and Vice-Chair
Joe Mihevc
yesterday, along with the people from the Sierra Club who have been financially supporting and doing the administrative work of the
MAP
.
It was my first time "in" City Hall (that is, where all the councillor offices are) and it was pretty cool. Someone in Giambrone's office bikes to work too - which is impressive, as winter is finally hitting Toronto.
While I won't let out too much news here just yet, I can tell you that Adam and Joe are fully on-board with the concept and goals of the
Metropass Affinity Program
(namely, to get more people using transit instead of their cars, to get more people buying Metropasses, to encourage business at Toronto stores, and to help de-smog our air). Still to be worked out is exactly how the city or the
TTC
will be involved, and what kind of financial obligations there will be, since there will be a lot of administrative work if this little idea of mine from a couple years back becomes very successful.
It's a significant step towards continuing the
Mission Statement
(
"to do my best to break and destroy the dominance of the automobile in this city"
) that I published in the fall. I don't take Mission Statements lightly... so you can expect a lot more.
posted by Joe on Thursday, January 04, 2007

If you're like me, you use your bike as your primary mode of transportation around Toronto, but also use the
TTC
to get around if it's pouring rain (and you don't feel like getting as wet) or it's one of those bitterly cold winter days (some of you younger readers may not remember these... why, back in MY day... we had snow in Toronto! Real Live Snow!), orif you have to get out to some no-man's suburbia land in outer Scarborough or something.
Or maybe your bike has a flat tire and you're too lazy/busy to fix it (which is my situation right now).
Anyhow, my point is that when you live in Toronto and life a car-free (or car-light) life, the TTC comes in handy.
One of many criticisms of the TTC has been the design of
TTC.ca
. While it was pretty state-of-the-art in 1996 or so, when it looked pretty much like it does now (although less cluttered), the last 11 years have not been kind to it. The website is pretty ugly, clunky, hard-to-use and not user-friendly.
Marking yet
another sea-change
at the TTC,
Adam Giambrone
has invited Torontonians (specifically web-savvy users like bloggers) to make suggestions about what the
TTC website
needs.
You can do so on the comments sections on
Spacing
,
BlogTO
,
Torontoist
and
Reading Toronto
.
You can see a few of my ideas
here
.
Labels: transit
posted by Joe on Tuesday, January 02, 2007

Happy New Year, everyone!
I logged into my email this morning to see something very cool.
Back in early December, I emailed the
mayor
, new TTC chair
Adam Giambrone
and vice-chair
Joe Mihevc
to offer my congratulations on their re-elections, but also to establish contact in pursuing linking up my efforts with the
Sierra Club
in setting up the
Metropass Affinity Program
(which has local businesses offering discounts to any customer who shows a Metropass) with the TTC... after all, it was part of the Mayor's
Transit Platform
.
The good news is that Joe Mihevc has emailed me back and he and Adam and David are very interested in getting something really constructive done with the
Metropass Affinity Program
. It looks like we're going to have a meeting with everyone involved to brainstorm and see how we can advance things.
The bad news is that there isn't any. What a great way to start a new year!
I'll keep you updated on any news regarding this. More people on transit equals less people in cars acting selfish and destructive.
I'm getting this really good feeling about cycling and transit in Toronto in 2007.
Labels: transit
posted by Joe on Tuesday, October 17, 2006

There's a cool post over on
Torontoist
about the
TTC's recent efforts
to help drivers know that they should be stopping for open streetcar doors. Basically, the TTC is placing big ugly (in my opinion) stickers on the rear windows of streetcars.
Why don't we do the same thing with streetcars as is
done with schoolbuses
? When a streetcar is stopping, have flashing lights on the back and a little stop sign swinging out from the door side of the streetcar to make sure cars stop.
If I was a conspiracy-minded guy, I'd almost think there was an anti-cycling club operating in the Toronto "blogosphere" because there are always commenters talking about cyclists like they are the ones who run over and smush people instead of cars. The very first comment on Torontoist about
this post
is not about the importance of cars stopping when people are boarding or disembarking from streetcars, but about how some cyclists don't.
While I think that cyclists
should
stop for people getting on and off of streetcars (it's just courteous, and I do it, only passing when I'm sure that the way is clear), I do not think that if they do go through a crowd of people getting on a streetcar, that they should be held to the same standard as drivers.
Am I advocating a double-standard? Of course!
If a car drives through a crowd of 20 people getting on a streetcar, you'll be lucky if you don't have 20 dead people. At the least, you'll have quite a few dead and the rest seriously injured. This is even at fairly low speeds, due to a car being a ton of motorized steel.
If a cyclist rides through a crowd of 20 people getting on a streetcar, you may have them hit a couple people, who may get knocked down and bruised. Remember that top speed for a really fast urban cyclist negotiating traffic is BELOW the speed limits of all Toronto roads.
Using the above examples, it's fairly obvious that a driver acting recklessly causes a lot more death and destruction than a cyclists acting recklessly (when's the last time you heard of someone dying in a bike collision? Does a day go by that you
don't
hear about a automobile fatality?).
As mentioned above, I stop for streetcar doors… and only proceed when it's safe to do so (which is pretty quickly as my bike can go places cars can't, and doesn't pose a danger to anyone).
What do you do around streetcars?
Labels: transit
posted by Joe on Wednesday, February 15, 2006

[note: the "Metropass Affinity Program" is no longer running.]
I'm off to meet with the
Sierra Club
tonight to talk about making the TTC
more attractive
to Torontonians.
It's actually because of biking and breathing in the nauseating exhaust of cars that brought the
Sierra Club
and I together to work on the
Metropass Affinity Program
(that website is being re-designed and updated soon...). I'm determined to do what I can so that whenever my kids come into this world, they'll get to breathe cleaner air than I have to.
I foresee the launch of
MAP
being within a couple months, and you should also watch for an article I'm writing about it for
Spacing Magazine's
upcoming transit issue this Spring!
Labels: transit
Every friday, BikingToronto takes all the bike news and sends it to your inbox.