posted by Joe on Tuesday, July 31, 2007

Ghost Bike Memorial Bike Installation
Labels: photooftheday, photos
posted by Joe on Monday, July 30, 2007

Colourblind
posted by Joe on Sunday, July 29, 2007

Cedarvale Park Bridge
Labels: photooftheday, photos
posted by Joe on Saturday, July 28, 2007

A Reminder of Winter
Labels: photooftheday, photos
posted by Joe on Friday, July 27, 2007

Coxwell & Lakeshore
Labels: photooftheday, photos
posted by Joe on Thursday, July 26, 2007

From the Humber
Labels: photooftheday, photos
This friday is the 12th monthly BikeFriday!
There's a lot of good stuff going on, so here's a quick run-down for you:
Free Breakfast on Roncy!
Free Breakfast on the Danforth!
Hop on your bike and find some two-wheeled solidarity this Friday among the folks at Grassroots-Danforth (372 Danforth Ave. at Chester), for our monthly "Biker Breakfast" in support of Toronto's bicycle commuters. You can even bring your own coffee mug for extra-environmentally-friendly coffee drinking! :)
BikePools / Group Commutes!


The concept is simple -
let's meet up in groups and ride to work together
. Biking to work can sometimes be dangerous - but it's safer when you ride with other people.
Drivers are a lot more careful around groups of cyclists. Riding in a group encourages novice cyclists to participate and makes cyclists more visible to motorists. Organized rides also show motorists that cycling is a viable alternative to driving.
7:00 AM - Parliament & Carlton
to Victoria Park & Gordon Baker Road [
map
]
To join this ride, email David at
dcurtis@careerfoundation.org
7:30 AM - Yonge & Major Mackenzie
to Hwy 7 & Warden [
map
]
To join this ride, email Andrew at
andrew@monkeymartian.com
7:30 AM - Bloor & HighPark (Westbound)
to Mississauga City Centre [
map
]
To join this ride, email Vic at
vic@gedris.org
8:00 AM - Bloor & HighPark (Eastbound)
via Bloor to downtown [
map
]
To join this ride, email Martino at
himartino@gmail.com
8:00 AM - Danforth & Woodbine
via the Danforth & Bloor to downtown [
map
]
To join this ride, email Joe at
joe@bikingtoronto.com
8:00 AM - Yonge & Lawrence
to Hwy 7 & Leslie [
map
]
To join this ride, email Darren at
dazjenx@gmail.com
8:30 AM - Queen West!
(meet at Parkdale Library (
1303 Queen West
) before heading east to Queen & McCaul)
To join this ride, email Jo at
jo@traffikedit.com
9:00 AM - Roncy & Garden (just north of Queen)
to the University of Toronto [
map
]
To join this ride, email Tammy at
tammy.thorne@utoronto.ca
Bike-Commute in Mississauga?
Smart Commute Mississauga has Group Rides for you
!
Add YOUR Commute!
Add your bike-to-work route to this page, find others going the same way.
Email BikeFriday
.
Critical Mass
Bloor & Spadina
Meet at 6:00, Ride at 6:30
Enjoy an early evening ride with hundreds of other cyclists through downtown Toronto.
Reminder
There's a new cool interactive GoogleMap on the
BikeFriday
site. See all the above events plotted on a nice map.
Labels: bikefriday
The City of Toronto wants to hear your comments and new ideas to set cycling priorities for the next five years.
Thursday, July 26th


6:30 to 9 p.m.
St. Lawrence Hall
157 King Street East (at Jarvis)
As we reach the 6th year of the Toronto Bike Plan, this first session will be an open house format to:

learn about the status of current City projects from staff
give feedback and comments
participate in activities to help prioritize bike projects and timelines

Share your thoughts and visions in moving the cycling agenda forward with projects that support both current and new cyclists.

All public input will be used in:

A report to City Council,
a record on City website and,
forming the agenda for the next public consultation session.

Valet Bike Parking and refreshments will be available. Hope to see you there!

For more information, please contact bikeweek@toronto.ca.



More info on the City's website, and there are apparently rumours that "something big" will be announced in regards to the BikePlan.
I think "it" may be just the announcement that
Council has okay'd that the City will complete the bikeplan by 2012
(which would be big, since it would involve a large increase in new bike infrastructure over the next 5 years).
However, if the news is something else... I'll be very pleased. As will most cyclists, no doubt.
Creamsicle Fuji
Labels: photooftheday, photos
posted by Joe on Tuesday, July 24, 2007

Conquer Cancer
Labels: photooftheday, photos
I was rather amazed to read
that headline in the Toronto Sun
, quoting City Councillor Michael Thompson of Scarborough (a pretty car-friendly and cyclist-hostile place, infrastructure-wise) about the causes of
the horrific crash
of a big truck
last week
that killed a wife and mother instantly:
It's the drivers who use the intersection where a 39-year-old mother was killed Wednesday who are the problem, not the design, the city councillor for the area said yesterday.

"It's people being inattentive," Councillor Michael Thompson said yesterday at the scene.

"It seems to me that very intelligent people get into the cars and it dumbs them down."
Whether
these plans
actually come to fruition is the most important question, but knowing the answer... what we want to do... is a good start:
First off, the city wants to set up a program called "Live Green Toronto" that will encourage individuals, residents' groups, and other neighbourhood organizations to take action in areas such as energy efficiency, renewable energy, local food production, water conservation, tree planting, green roofs, compact fluorescent, and the use of native plants. I like what I'm hearing! Let's just hope they can deliver the goods.

Other eye-opening details include: doubling the amount of trees (from 17% to 34%), mandating that taxis and limousines shift their entire fleets to hybrid or low-emission vehicles, establishing a program to promote roof gardens, and

expanding the bike lane/trail network from 300 km to 1,000 km.



Labels: news
This friday is the 12th monthly
BikeFriday
!
Last friday I added a
new feature
to the
BikeFriday site
- a
map
that has all the
group commutes / bikepools
on it. There are
little green bike icons
at all the start points.
I've also put a
red marker
at the
Grassroots-Annex
store, as I think they're doing a
Bikers Breakfast
this friday, but am waiting for them to confirm it, so that's
tentative
at the moment...
There's another breakfast event in the works too... stay tuned!
Go to the BikeFriday site
to see the new map! :)
Labels: bikefriday, maps

More Bike Polo!
Labels: photooftheday, photos
posted by Joe on Sunday, July 22, 2007


Toronto Bike Week: Bicycle Polo
Labels: photooftheday, photos
posted by Joe on Saturday, July 21, 2007

Ride for Heart: the Gardiner
Labels: photooftheday, photos
This will be in the news forever.
Today, it's a
Globe & Mail news item
about mandatory helmet use by all cyclists.
What these articles NEVER mention is that in accidents involving car occupants and/or pedestrians, the injured are NEVER wearing helmets. If it's much more likely that someone will be hurt while in a car or as a pedestrian, shouldn't helmets be mandatory for them?
I've posted about this before
, using
official statistics
from the
Canadian Institute for Health Information
, but if you don't feel like reading
my earlier post
, here's the most important bits:
I find it interesting that only about 10% (~500 out of ~5000) of traumatic head injuries suffered by children happened while cycling - yet helmets are mandatory for them. 90% of child traumatic head injuries did NOT happen while cycling.

only about 2.5% (~300 out of ~12,000) of traumatic head injuries suffered by adults happened while cycling.

97.5% of traumatic head injuries did NOT happen while cycling

. In fact, most of them happened in motor vehicle accidents.
I used to wear a helmet. Now I don't.
Wearing a helmet does not determine whether I get hit by a car or not. Whether I get hit or not depends on the driver, and that I ride my bike in a safe manner (which I do).
It's a given that if I suffer a head injury, it will be less serious if I am wearing a helmet. However, given that
according to the CIHI
, only about 300 adults are hospitalized per year with cycling-related head injuries... the chances of me being hit and suffering a head-related injury that a helmet could mitigate is very small.
Of 2500 Major Head Injuries Annually in Ontario
49% motor vehicle involvement - including pedestrians, excluding cyclists
35% falls, 6% homicide, 2% suicide, 6% other causes
less than 2% Cycling
(Source: Canadian Institute For Health Information 2001/2002) [link]

I base my behaviour on the statistics. Not the hysteria.
Also, and this is a biggie... biking is a lot more fun without a helmet. Try it on some quiet sidestreets and you'll thank me.
Good links:
[
source
]
Bicycle, motorcycle accident leaves two hurt
Two people have been rushed to hospital after a motorcycle and bicycle collided in north Thornhill this morning.

A 39-year-old woman was killed instantly, while seven others were hurt including a driver who's in critical condition. A father managed to grab his child out of a baby stroller before the truck mowed it down, leaving behind a crumpled heap of twisted metal and fabric.





The driver of the vehicle that struck and killed a 70-year-old man out for a walk in Richmond Hill Tuesday night fled the accident scene, York Regional Police say.

A 74-year-old Burlington man is charged with dangerous driving causing death after a pick-up truck hit his wife.

"The rig overturned, slid 80 metres on its right side. The cab burst into flames," he described. "We were afraid of an explosion (so) actually closed the westbound express and collectors for awhile."





A 14-year-old boy was taken to Peterborough Regional Health Centre last night with unknown injuries after he was struck by a car while crossing Chemong Road on his bike.





A driver was rushed to hospital in serious condition after his car crashed into a pole near Islington and Finch at about 4:30am Monday.





A tractor trailer rollover Sunday evening sent one man to hospital with serious injuries and caused the closure of the Islington off-ramp from the eastbound 401.

A man believed to be in his 30s, was taken to hospital and treated for minor injuries after his car rolled over on the Queensway at Windermere early Sunday.





A 15-year-old girl is dead after being ejected in a car crash near Uxbridge, east of Toronto, early Friday morning.

Related:
"In a split second, as a result of a drunk driver, my whole world has been destroyed," says Zhang. "My loving wife is gone forever and my son is clinging to life."





If you've ridden on a Toronto streetcar or bus, more than likely it's happened to you at least once. There you are, stepping off a TTC vehicle minding your own business, when out of nowhere comes a speeding car, ignoring signage and safety.





---
About Toronto's Weekly Carnage:


Toronto's Weekly Carnage is inspired by NYC's Streetsblog Weekly Carnage feature. The aim of this series of posts is to bring attention to the death and destruction wrought by automobiles and an auto-centric culture. Pursuing policies promoting walking, cycling and public transit could help reduce the carnage.
Labels: carnage
Sidewalk Cycling
(which is bad, of course)
Labels: photooftheday, photos
From the BikingToronto Inbox:

TONIGHT Thurs. July 19th, 7 - 9
SET-BUG (South East Toronto Bicycle User Group), formerly the Dundas EAST group, also known as BEAST (Bike East) will meet here at South Riverdale Community Health Centre (955 Queen St. East.)
Agenda:
1. Happy moment: the Greening of Dundas has begun!
2. Uncertain but optimistic - Bike Lanes on Eastern Avenue and Leslie, review status and proposed north south connector.
3. Maybe Sad - looks like Dundas Bridge may remain a "missing bikelane link" (even though recently reconstructed). See Martin Koob's recent article http://biketoronto.ca
Contact info:

Paul Young

Health Promoter, South Riverdale Community Health Centre
955 Queen St. East,
Toronto, ON, M4M 3P3
tel (416) 461-1925 ext. 241
fax (416) 469-3442
Labels: events
Dealing with railways and highways in Toronto are a fact of life when cycling this city. In many places only the major "arterials" tunnel under or bridge over these man-made barriers, which makes crossing them a challenge, as it requires biking on a major road.
Every once in a while though, there's a piece of good planning that creates a tunnel or bridge that connects two formerly seperated areas of the city. One that I discovered this past winter is a
little tunnel that ducks under the railway tracks
at the south end of
Monarch Park
. It's a good alternative to dealing with busy traffic on Greenwood or Coxwell in the winter... although in the summer the Coxwell Hill between the Danforth and Gerrard is a whole lot of fun.
Anyways, the Star wrote about a
proposed bridge
in the new CityPlace condo neighbourhood that would connect it with
Portland Street at Front
- tying it into the city north of the railyards, as well as building another connection between downtown and the lake.
The proposed 120-metre bridge would allow pedestrians, cyclists, baby strollers, wheelchairs, joggers, rollerbladers – anything but a car – to safely cross the rail corridor and step right into CityPlace's planned 3.2-hectare North Linear Park. From there, a plotted extension of Dan Leckie Way would lead under the Gardiner Expressway down to the water's edge.
Another great option for getting to the lake without worrying too much about cars.
The article also mentions some other improvements to connect the harbourfront with the rest of the city:
It should be noted, that the Yonge tunnel under the railyards is
on the list for bikelanes
too!
Labels: infrastructure, news
Well, CBN's
BikeShare
is dead... but it's
being resurrected
on the UofT Scarborough campus:
The initiative, a partnership between the university's student union and the UTSC Bike Movement, aims to encourage an alternative and cost-efficient way of meeting students' transportation needs as the majority use vehicles to get around.

BikeShare at UTSC has received a number of grants and bursaries for the program.
Labels: news
Bicycle Man on the Beach, in the Beach(es)
Labels: photooftheday, photos
I think every cyclist has a yearning to go to Europe, to see what bike-friendly cities look like first-hand.
The
Amsterdam Central Train Station Bike Garage
(
Architecture Week article
) is probably the most photographed parking garage in the world. It was designed specifically for parking 2500 bikes.
But what happens when you can't find your ONE bike in that 2500?
The Star has re-printed a Washington Post article
about that.
Mary Frances Cullen – Irish, 63, with dyed auburn hair and quick green eyes – sees the lost-bike frenzy dozens of times a day.

Unlike automobile drivers, cyclists don't have keys with panic buttons. At Amsterdam Central, they have Cullen and her crew of bike attendants.

Cullen, who wears a neon lime-green vest, works out of a yellow box on the first floor to help bicyclists in distress. Before this job, she spent eight years causing bikers distress: She was on the city squad that rounded up illegally parked bikes from bridges, lampposts and sidewalks and hauled them to the bicycle pound outside town.
Anyone else thinking that
Union Station
needs something like this? All those commuters coming in on GO Trains can hop on a bike to get to their downtown office jobs.
[
photo credit
]
Labels: elsewhere
I originally saw this on
SFist
(sister site of
Torontoist
) - but it looks like the YouTube video has been taken down, so I tracked down
another version
of it for you. Apparently a car driver
drove
right into a Critical Mass crowd, crushing 3 bikes and injuring 2 people.
It's rather disturbing, but if you want to watch:
Especially disturbing is the fact that although the cyclists asked police to press charges against the driver, the police refused. The police also refused to interview other drivers who said the driver was at fault and only interviewed other people in the offending vehicle.
I just noticed that this happened back in mid-May... but the
Bicycle Civil Liberties Union
has a lot of media links about it. Apparently, most coverage was not favourable towards the cyclists.
Labels: elsewhere
I posted about
Toronto Bike Cops
yesterday... so
here's an article
for you 905ers in Dufferin Region, and Pickering specifically. Looks like Bike Cops are
useful everywhere
!
Two police officers on bicycles are patrolling the city's parks and green spaces in a partnership between police and the city. The patrols began in June and run through mid-September. They target specific problem areas.

So far, the bike patrol unit has charged 63 people for various offences including drug possession, liquor violations and engaging in prohibited activities.
How about the rest of the 905? Anyone in York or Peel Regions seen a Bike Cop presence lately?
Labels: news
Green Living Magazine
(which, if I recall correctly, started publication years ago as a City of Toronto environmental newsletter) has a
really nice article
on the growing movement of commuting with kids not by car but by bike, and has tips
about making the transition
:
A common sight in the streets of Amsterdam is Mom or Dad peddling the children around town. The kids perch casually on the freight rack at the back or in what can only be described as a cargo box in front of the handle bars. Most have the air of being bored, as if this kind of circus performance was actually the height of tedium. And truth be told, in a land where bicycles rule the road, one can excuse them for appearing unexcited about a family trip to the grocery store.



But here in North America, where the family car has morphed into a gigantic beast with cupholders and individualized climate control for everyone, such plucky devotion to the bicycle seems adoringly quaint and European. We could all use a little more Europe in our lives and what better place to start than with the good ol' bike?
Green Living has a lot of environmental driving stories (it's a Canada-wide magazine now), but they have another bikey one called "
City Cycling: It's the cheapest, fastest, healthiest way to get around
" that you can check out.
Check out this
BikingToronto post
from May if you're interested in that "
what can only be described as a cargo box in front of the handle bars"
thing
... a Bakfiets (Dutch Cargobike).
Labels: news
Baring It
Labels: photooftheday, photos
Jim Caple of ESPN (which is apparently known for poor cycling coverage) has a piece called
10 reasons you'll want to watch this year's Tour de France
. Number 10 is
Bicycles are the new SUV:

More importantly, it's good for you, good for the environment and good for the country. Who is more patriotic, the person who commutes to work on a bike, or the guy who slaps a U.S. flag decal on his SUV that gets 12 miles per gallon?
Buying gas gets soldiers killed.
This counts for Canadians in Afghanistan too. We're there because terrorists drove planes into the World Trade Centre, because they've long been upset that western countries have been stationing troops in their countries for easy access to oil.
[via
Commute by Bike
]
Labels: elsewhere
Interesting article
from the BBC yesterday
about cyclists acting morally superior over in England. This is in no doubt spurred on by the
cycling-friendly policies
of the larger cities like London.
But has cycling become too politicised? Might government-funded campaigns that flatter cyclists as "heroes" give rise to "conviction cyclists" - people who ride their bikes with an air of moral superiority.

...


But cyclists who may have a "holier-than-thou, high-handed sense of superiority" are in a small minority, says Matt Seaton a cycling columnist for the Guardian and the author of two books about cycling. The vast majority take up bike-riding for practical rather than political ends, he says.

"People who turn to cycling are really thinking about the money they will save, the convenience of being able to get from door-to-door quite quickly.
It's understandable that non-cyclists would get upset at cyclists who go through red lights or ride on the sidewalk... I'm not saying that cyclists should adhere to the same rules as cars, but that responsibility is essential to make sure everyone gets where they're going safely.
However, I don't like people finding out I'm a cyclist and then telling me about some courier who spit on their car, or some schmuck who almost ran over a kid while riding on the sidewalk... it's like they have let those bad experiences pigeonhole all cyclists into an "irresponsible lawbreaker" category.
A small percentage of cyclists are idiots, just like a small percentage of car drivers are idiots. I know that while there are car drivers who drink and drive or streetrace, it doesn't mean all of them do.
[
photo credit - BBC
]
Labels: elsewhere
Just got this from
TCAT
:
Sorry for the short notice but there's a meeting tonight (July 17th) about proposed changes to the South Kingsway/Queensway interchange.


The meeting is being put on by the Swansea Area Ratepayers Association (SARA) at 7:00pm at Swansea Town Hall (95 Lavinia, Rousseau Room). SARA is lobbying hard to ensure that the City does not make any changes that would make this '50s highway style interchange more cycle/pedestrian friendly.


Although I don't like the design that the City is proposing -- a weird "link" road costing almost $1 million -- anything is better than what currently exists. Anyway, I think cyclists/peds and all interested in creating a sustainable city should be there to voice their opinion.

City of Toronto http://www.toronto.ca/involved/projects/south_kingsway-queensway/index.htm
Please make it if you can... here's another auto-centric group that is saying to hell with cyclists and pedestrians, all because they don't want to slow down while driving.
[
image credit - City of Toronto
]
It's hard to believe but according to
this Star article
, one man was the driving force behind the
Toronto-Niagara BikeTrain
initiative!
Standing in his navy suit and gold tie on a podium in Union Station, Justin LaFontaine doesn't look much like a cyclist. Or a man who can move mountains.

But his passion for the activity and his persuasive abilities quickly become clear after representatives from Via Rail, several tourism operators and two levels of government explain how he convinced them all to work together.
Great job Justin! You're a great inspiration to anyone who wants to make a difference and start something that everyone else thinks is impossible.
Let's hope that the
BikeTrain
program expands throughout southern Ontario and Canada... there are a lot of great places to bike!
Labels: infrastructure, news
My wife let me know that there's a
nice little article
in the
24 hours
"commuter paper"
about Toronto's bike cops
and how they are pretty well the fittest cops in the city, riding up to 100 km a day and working out in the gym on their lunch hours.
I love bike cops. It makes me smile just to see them out there interacting with the community instead of being unapproachable (and frankly inhuman) in a patrol car.
Anyone have any cool bike cop stories?
[
photo credit - MyBikeLane Toronto
]
Labels: news
Long Shadows
Labels: photooftheday, photos
Cool things happening in New York... lots of new "brass" at their Department of Transportation are extremely bike and transit friendly.
Here's a few links for you... one about the filming of a pro-bikelane commercial, and a
Streetfilm
about car parking behind taken out in favour of bike parking. Also, a
Streetfilm
about Brooklyn's
Critical Mass
- Manhatten's always gets a lot of (police) attention, but the Brooklyn one is also huge and has been running problem-free for years!
Laura Conaway at the Village Voice caught the filming of a bike lane-related television ad near Lafayette and E. 4th Street yesterday. We're guessing that either MyBikeLane brought in some venture capital funding and is going big-time or the Dept. of Transportation was filming a public service advertisement.
In a historic first for New York City, the Department of Transportation has removed on-street car parking spaces in favor of bike racks:


Related:

New Bedford L Stop Bike Racks Very, Very Popular (Gowanus Neighbourhood Blog)

Streetfilms: Feel the Love: Brooklyn Critical Mass
Labels: elsewhere


When Paris Mayor Bertrand Delanoe pledged to cut car traffic in the City of Lights by 40% by 2020 (and subsequently car-based emissions, accidents, etc.) he wasn't fooling around. This past Sunday marked the start of
Velib
, a cheap bike rental program that has 10,000 bikes around Paris (to be up to 20,000 by the end of the year), with 13,000 people already owning annual memberships.
The program is financed by an advertising company, which finances and runs the program in exchange for exclusive access to the city's billboards.
This seems like a way better deal than the whole
Street Furniture debacle
here in Toronto. It would've been creative of the politicians to add the continued funding of
Bikeshare
to that deal.
Here's some news articles about the new Paris enlightenment:
"In the morning, you can go to work in the tram and come home by bike; it depends on the weather, it depends on your mood and on your friends," said Paris Mayor Bertrand Delanoe Sunday. Delanoe aims to cut car traffic in the city by 40 per cent by 2020.
The key, Mr. Aidenbaum said, is to make it easy. "What this initiative does is to take away some of the inconveniences of owning a bike in Paris," he said, "the lack of storage space in Paris buildings, the issue of theft and the hassle of maintenance." First indications are positive. Even before the docking stations opened, 13,000 people had bought annual subscriptions online. On Sunday, some docking stations were so popular that they temporarily ran out of bikes.
About a dozen sweaty people pedaled bicycles up the Champs-Élysées on Sunday toward the Arc de Triomphe, as onlookers cheered. Skip to next paragraph Enlarge This Image Alastair Miller/Bloomberg News Two tourists rented bicycles Sunday at City Hall. These were not the leading riders of the Tour de France racing toward the finish line, but American tourists testing this city's new communal bike program.
Parisians awoke yesterday to find more than 10,000 sturdy bicycles available for their use at 750 locations around the city. It cost next to nothing to take one for a spin. A swipe of a credit card for the deposit, and a 22-kilogram, pearly-grey bike, complete with basket and chain lock, was ready to ride.
Labels: elsewhere
TheStar.com - News - Man on bike attacked in east end
:
"Even those on bicycles can't escape thieves in Toronto.
A 31-year-old male cyclist was cruising around Dundas and Sherbourne Sts. around 12:20 p.m. on Friday when he was approached by a group of five men.
One of them demanded the cyclist give up the Silver Strong Electrical bicycle he was riding, and began to punch the victim about the face, knocking him off the bike.
The group stole the bike and took it westbound toward George St.
Police say the investigation is ongoing and anyone with any information on this incident are asked to call Crimestoppers at 1-800-222-8477."
Labels: news
I present to you a few quick tips to make life in smogtown more tolerable.
In fact, it's cyclists the pedestrian must really take care over, for here, where the Danforth has been "thickened," so it froths with activity night and day, bikes have been left with a virtual expressway: the piece of the parking lane between moving cars and parked cars is almost two meters wide, wider than a regulation bikelane, providing more than adequate clearance from the "door zone" of parked cars. Too narrow for a car, this de-facto bikelane lets cyclists really zip along. Never mind "Take the Tooker." This part of the Danforth is a bicycle expressway already, without the fuss.
Labels: news
Hanging there
Labels: photooftheday, photos
Could be that the NYC Department of Transportation actually listened to groups like Transportation Alternatives, which advocates painting bike lanes a solid color in order to improve visibility and curb blockage by motor vehicles.
An increase in cycling within the zone of 43 per cent. Congestion Charge generated provisional net revenues of £123m in 2006/07, which will be spent on further improvements to transport across London, particularly bus services.
The new bike racks have been installed at the Bedford Avenue L subway station in Williamsburg, Brooklyn. As the Dept. of Transportation announces in today's press release, "The facility marks the first time car parking spaces have been removed to accommodate bikes".

For the third year, a who's-who list of regional bigwigs and policy makers from Portland and Vancouver will escape from their cubicles for an up-close look at the highs-and-lows of our regional bikeway network.
One idea that holds promise comes from bike theft guru and founder of StolenBicycleRegistry.com, Brian Hance. He recently published an article titled,
"Open Source Bike Recovery - On The Cheap"
that details the use of radio frequency identification tags.
Labels: elsewhere
posted by Joe on Sunday, July 15, 2007

Watching
Labels: photooftheday, photos
posted by Joe on Saturday, July 14, 2007

Waiting
Labels: photooftheday, photos
posted by Joe on Friday, July 13, 2007

Rain Gear
Labels: photooftheday, photos
posted by Joe on Friday, July 13, 2007

A woman and her son were struck down by an alleged drunk driver at 330 McCowan Road near Eglinton Wednesday night. The mishap occurred around 8:15pm. What started as a fun afternoon flying a kite ended in tragedy for a Toronto mother and her three-year-old son, as a collision involving an alleged drunk driver left the 36-year-old woman dead and the tot clinging to life in hospital.
The boy, whom witnesses at the scene referred to as Dylan, and another 14-year-old boy were riding their bikes on Lockhart Road at the intersection of Huronia Road when Dylan was hit by a silver Ford Focus, just before 3:30 p.m., police say.
A 40-year-old Oshawa man narrowly escaped death when a police officer and a paramedic coming off their shifts pulled him from the wreck of his Hyundai Tucson early yesterday morning.
Police will be looking into what caused an SUV to collide with another car and end up on its roof in the middle of a major intersection in the city's northwest end, landing a man in hospital with life-threatening injuries.
A motorcyclist was sent to hospital with serious leg injuries today after he drove his motorcycle into a guardrail as he took the Bayview/Bloor ramp off the northbound Don Valley Parkway.
A two-vehicle collision last night has sent a man in his 30s to hospital with life-threatening injuries.
A 19-year-old Kitchener woman was rushed to hospital in Hamilton after being struck by a car while biking along Victoria Street yesterday.
A pedestrian was hit early Saturday morning near College and Augusta. The victim just has a few bumps and bruises and is expected to be okay. Police are investigating to see if alcohol was a factor. No word on charges.
"After it hit the tractor trailer it hit that centre median, and it hit the concrete and (burst) into flames," described Const. Dave Woodford of the OPP. "Completely gutted. Nothing left inside or outside the vehicle. Completely gutted."
Witnesses saw the man's 2007 Hyundai Tucson speeding along the road before it spun out of control, crossed three lanes of traffic and rear-ended the tractor-trailer around 3 a.m., said OPP Const. Julia McCuaig. The car burst into flames on impact.


Related:
In the

Journal of the American Medical Association

(April 2000), I reviewed the effect of speed limits on crash mortality across the U.S. and after taking into account a variety of other factors that might affect deaths due to crashes, the message was clear – speed kills. James argues that lower speeds cause the "greater menace of drowsiness and fatigue." The suggestion that fatigue is caused by lower speeds is as ludicrous as arguing that higher speeds act as a stimulant.
Statistics show that driver distraction is a leading cause of fatal crashes. Maybe we need to take a serious look at banning cellphones, electronic gadgets and navigation screens from vehicles.
I hear them driving through the streets at night, tires squealing, souped-up engines roaring, and I'm filled with dread -- dread that I'll hear a sickening thud that will mean some kid somewhere lost control of his car...
Fatal crashes on Ontario highways are up dramatically in 2007 compared with the same period last year.
---
About Toronto's Weekly Carnage:


Toronto's Weekly Carnage is inspired by NYC's Streetsblog Weekly Carnage feature. The aim of this series of posts is to bring attention to the death and destruction wrought by automobiles and an auto-centric culture. Pursuing policies promoting walking, cycling and public transit could help reduce the carnage.
Labels: carnage
posted by Joe on Thursday, July 12, 2007

Dog Walking
Labels: photooftheday, photos
Torontonians have a right to know what's in the air, says medical officer of health.
Condo buyers will probably be hearing a lot more these days about bike storage in new developments.
Labels: news
Ride for Heart: The Big Smoke
Labels: photooftheday, photos
Mayor Bloomberg is trying to recruit a world-renowned Danish architect who wants to ban most cars from Times Square - and raise the price of street parking.
Clarence Eckerson put together a really nice little StreetFilm featuring some of the public space improvements that are now underway in various parts of New York City:
Cycle tracks, notes Lusk, are actually a separated part of the roadway yet distinct from the roadway, distinct from the sidewalk. In their purest form — Odense, Denmark, where 50 percent of all city journeys are by bicycle — the paths even have their own traffic signals.
you rode by me with your hat on and on a pretty orange bike with white wheels. your arm muscles were so nice. i want you to hold me. i see you all the time. next time i will yell, but what name should i yell?
Two years ago, the Berlin Senate decided that bikes should make up 15% of city traffic by the year 2010. Results released from the newest traffic study of the Berlin Development Administration show that the goal could be reached early: the number of bicyclists has more than doubled in the last decade to 400,000 riders daily, accounting for 12% of total traffic.
Vancity Bike Share wants to see you to get on a bike, share it with others and spread the word about cycling. It is a chance to try alternative transportation, increase your daily exercise and share with your community.
Imagine walking to a sidewalk corner and finding a public bicycle. With a cellphone call or swipe of a card, you unlock it from its bike rack and ride it across town. Once at your destination, you steer to the closest bike rack and, with one more call or card swipe, return the bike to the public network. You pay less than $.50 for the trip, and the bike is once again available for the taking.
Labels: elsewhere
posted by Joe on Tuesday, July 10, 2007

Richard Florida, one of the most important urban thinkers since Jane Jacobs, is following her lead and coming to Toronto. The University of Toronto will likely welcome the public intellectual to its Rotman School of Management this fall.
So the question Spacing poses to you today is: Do you think the City of Toronto should implement road tolls on the Gardiner Expressway and the Don Valley Parkway? Let's hear your reasons for and against in the comments section.
Eight years ago, I stood on the street in Amsterdam and watched hundreds of cyclists rolling through an intersection. I thought then: the Dutch have passed the tipping point. Cyclists in Amsterdam have the numbers, to dominate not only the streets, but the perception of the streets. To a resident of Amsterdam, Rob Ford's "Roads are built for buses, cars, and trucks." must seem self-evidently absurd.
Labels: news
posted by Joe on Tuesday, July 10, 2007


Ride for Heart: Avoid Idling
Labels: photooftheday, photos
"What's there now works well and it's already paid for," he said, citing the proposed traffic signals and confusing series of left turns the plan will bring as dangerous impediments to the free-flow of traffic that currently exists.
As the politician responsible for the state of the city's watermains, sewers, trash collection and—most importantly—roads, there's a symbolic dimension to his cycling commitment. It's also quite clever of him, since every day he gets a close-up look at the city and its dysfunctions that he would never get from the driver's seat of a car.
Toronto's a city of ravines that are so often unused. When you do use them, they're pretty spectacular. They can take you places, too. We have a rehearsal space out by Caledonia and Eglinton and I'd ride my bike regularly from Riverdale to that area using Mount Pleasant Cemetery and the ravines. It's an exciting way to look at the city.
Labels: news
Ride for Heart: DVP to the Gardiner
Labels: photooftheday, photos
The 2007 Tour de France opens on Saturday with a 4.9-mile prologue through the city of London. Bicycle racers will start individually at Whitehall, pedal past the Houses of Parliament, loop through Hyde Park and finish on The Mall.
The Tyee, an independent online pub in British Columbia, weighs in with the first in a series of editorials making the case for free transit in the province.
RPUS points us to this story about a "green" taxi company in London that carries bike racks in the cab.
Jacobs Babtie is one of Britain's largest engineering companies. Their clients include Transport for London, which has a target of achieving a fivefold increase in the level of cycling by 2025. Jacobs' advises local authorities on sustainable transpor
Last week, the Belmont neighborhood welcomed two new on-street bike parking facilities to SE Belmont Street. I published photos from Bill Stites the day they went in .... Bill says crews hadn't even finished installing the racks and people were already
London's gone bicycle crazy in the lead up to this weekend's Tour de France.
Labels: elsewhere
posted by Joe on Sunday, July 08, 2007

Rolling around @ the Beach
Labels: photooftheday, photos
posted by Joe on Saturday, July 07, 2007

Ride for Heart: Skyline
Labels: photooftheday, photos
I just found out about these... sorry for the late notice.
Two tours are running on Sunday July 8:

The Junction - 11 AM

Charming residential alleys, older industrial areas along a proposed bike path, strange spaces and engaging graffiti. Meet at Dundas West Station, in front of the main entrance at 11:00 a.m.

Trinity-Bellwoods, Little Italy, Queen West - 1 PM

Many laneway homes, new and original, famous Croft Street, and graffiti alley south of Queen St. West. Meet at the south-east corner of Trinity-Bellwoods Park, at Gore Vale and Queen St. West at 1:00 p.m.
Space on each ride is limited so be sure to look for details on Graeme Perry's
Laneway
website and
send email
to register in advance.


[via
Torontoist
]
Labels: events
On the ferry... going to the island
Labels: photooftheday, photos
The debate is over, and as of today the Ninth St. bike lanes are swiftly becoming a reality.
"I think that you're going to see an adoption of our version of world-best practices…everything from separated bicycle paths to much more aggressive bicycle boulevards."
Given Dubai's penchant for the extravagant, Birk and Jones expect the bike plan possibilities to include fully separated, shaded and mist-cooled bike paths (like Qatar will have), and "Cadillac, state-of-art" bike parking.
Commute by Bike: Cycling Article in House & Garden Magazine
"Here in Vermont, we have to get our satisfaction in other ways. Like slowing down to smell our neighbor's lilacs as we go by them, and getting in a workout when we go for the mail, and lightening our carbon footprint by using less gasoline. We may never pass any cars, but even so, we'll surpass them all."
Beijing will ban one million cars—a third of its autos—for a two-week test of its smog-control measures this month.
Labels: elsewhere

Police are seeking witnesses to a June 20 accident in which a 53-year-old Mississauga man was killed while changing a tire on Hwy. 401.
One man was killed and another was seriously injured when a car hit a tree early this morning in the city's north-east end.
Two people were injured, one critically, in a multi-vehicle crash in Halton Hills. Halton Regional Police said the collision happened just after 7am Wednesday on Trafalgar Road north of Highway 10.
One man is dead after a single-vehicle accident on Highway 400 early this morning.
An accident on the eastbound Queen Elizabeth Way near Hurontario Rd. this morning reduced traffic to one lane on the busy commuter route. Four vehicles were involved in the accident, which occurred around 6:30 a.m.
Emergency crews were called to the elevated highway near Rees St. shortly before 9 a.m. after the accident left an SUV sitting sideways across two of the highway's three eastbound lanes.
High-speed crash on 401 leaves three dead
Strewn in a ditch next to the shapeless wreckage of their 1992 BMW were the bodies of a 31-year-old man and a 34-year-old woman, whose names were not immediately released. Neither had been wearing seat belts.
Three men in their 20s died in separate tragedies involving vehicles in the Toronto area.
According to witnesses the driver involved in the crash was speeding and weaving in and out of lanes before smashing his car into the back of another vehicle.
The person in the crashed car had minor injuries and was taken to hospital.
Two people were taken to hospital Monday after a motorcycle and taxi collided at the corner of Bayview Ave. and Pottery Rd. Both the motorcyclist and a passenger from the cab were reportedly injured in the crash, but fortunately not seriously.
Related:
Driving over the speed limit has become generally accepted, but a growing number of people go far faster -more than 200 kilometres an hour in many instances
Fatal crashes on Ontario highways are up dramatically in 2007 compared with the same period last year,
---
About Toronto's Weekly Carnage:


Toronto's Weekly Carnage is inspired by NYC's Streetsblog Weekly Carnage feature. The aim of this series of posts is to bring attention to the death and destruction wrought by automobiles and an auto-centric culture. Pursuing policies promoting walking, cycling and public transit could help reduce the carnage.
Labels: carnage
If you have an opinion regarding cycling in Toronto that you think is worth defending, maybe it's time to step up and get yourself nominated for the new Toronto Cycling Advisory Committee.
I wrote about my encounter with a delivery truck driver in an earlier post. With the two of us living and working in the same neighbourhood, it was inevitable that our paths would cross again.
Labels: news
Cruisin' at City Hall
Labels: photooftheday, photos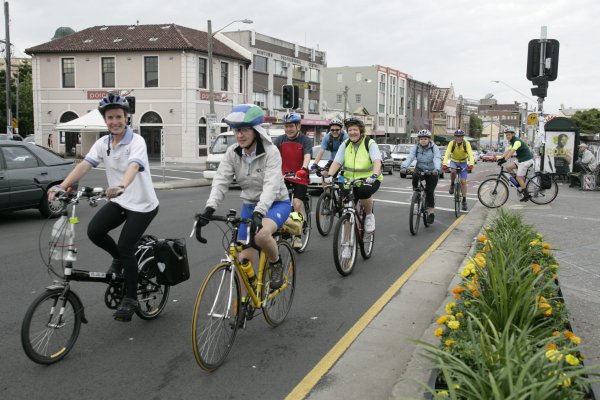 Australia "Bike Bus" website
A bike bus is a group of people who cycle to work in a group. It's called a "bus" because there is a set route and timetable so it can pick up more "passengers" along the way. Cycling is a quick, fun way to get to work while keeping fit and healthy. A bike bus adds sociability and comfort.
The

[Australia Government's] Department of Environment and Water Resources

, through the Low Emissions Technology and Abatement – Strategic Abatement program, has funded this project to develop and promote bike buses.
This is right up
BikeFriday
's alley! :)
Labels: elsewhere
A couple articles appeared in the
Mississauga News
before and after the most recent
BikeFriday
(June 29th, 2007). Here they are for your reading enjoyment. :)
Pre-BikeFriday:
When a large group of cyclists wend their way from Riverwood to City Hall this Friday in an historic ride, Smart Commute Mississauga's Glenn Gumulka says they will be showing that riding a bike is a realistic way to get to work.
Post-BikeFriday:

Two dozen cyclists made their way from Riverwood Park to City Hall on Friday morning, ushering in the first-ever local Bike Friday.
If you're interested in starting your own
Group Commute / BikePool
- see the
BikeFriday site
, or the
BikeFriday page on I Bike T.O.
Labels: bikefriday
Toronto Critical Mass, June 2007
That's another thing that I love about living in Toronto: while people talk about how dangerous it is to ride a bicycle on the streets, it really isn't if you're careful. It's a great way to get around...

Over 300 riders. Rock on! Benny Zenga, the Winking Circle & the Tall Bike Stole the show.
It looks like the community is doing what the city could not do in maintaining a bike rental service. The folks at BikePirates have started a bike loan service for FREE!
For more than 20 years, Elliott Katz has been exploring and documenting Toronto's wildest green places. The author of The Great Toronto Bicycling Guide -- the iconic blue-and-red pocket book that's now enjoying its 11th printing.
In Toronto, players are now meeting on Tuesday nights in Trinity Bellwoods Park. The event is run by the eccentric Royal Society of Adventurology, whose members serve tea and crumpets and urge newcomers to arrive in "jaunty, sportsperson-like attire,"

The maps can be picked up at the City Hall, civic centres, community centres and many bike stores throughout the city. An online version is also available on the City's cycling website (although it hasn't been updated from 2006 yet).
High Park to Mississauga
Two dozen cyclists made their way from Riverwood Park to City Hall on Friday morning, ushering in the first-ever local Bike Friday.
About this time every year a friend tells me they've had their bike stolen. Three years ago I had my bike of 10 years stolen from me while I manned a Spacing table only 20 feet away at P.S. Kensington...
Labels: news
Ride for Heart: Lots of Riders
Labels: photooftheday, photos
New York is itching to get a piece of the action, so this month the Forum For Urban Design, in concert with Storefront for Art and Architecture have organised a "splashy exhibition of European bike-share programs, running a free-bike-rental experiment,
Spacing photographer Bouke Salverda was recently in Winnipeg and snapped this shot of a street sign indicating it's a cycling-only street on Sundays and holidays.
The province of Quebec doesn't mess around when it comes to cycling. A 250+ mile long route will be completed this August, making it the longest such route in North America.
Remember back in April when Mexico City Mayor Marcelo Ebrard ordered all his city's bureaucrats to set a good example by riding their bicycles to work the first Monday of every month?
The Vatican recently issued a set of Ten Commandments for motorists. I thought it appropriate that road cyclists have their own.
Committed to making cycling a viable form of transportation, the Berlin Senate measures the success of that city's bicycle network by the prevalence of cyclists in the overall traffic mix -- rather than the way New York's DOT does, by the miles of bike lanes...
The Boston Globe ran a front-page story yesterday about confrontations among users of the super-popular tree-lined Minuteman Bikeway in Boston. Police have already filed more reports of clashes between users of the bikeway this year than the previous two...
Labels: elsewhere
Inspirational video from the UK.
[via
Spinopsys
]
Labels: elsewhere
A proposed cycling lane running along Monaghan Road sparked a heated debate between cyclists, motorists and business owners Wednesday night at an open house.
He then went on to make the typical claims: motor vehicles have precedence over bikes, cyclists have to move out of the way, and that his "road taxes" pay for the road. I countered with the usual rebuttals: I can take the lane if it's unsafe to share....
We come to make roads safe so citizens of Toronto leave car at home and ride bicycle to work making for cleaner air and more friendly city.
"wearing earphones is just one of a range of crazy risk-taking behaviours on display in bike lanes across the city, as is squeezing alongside giant trucks and buses and blowing through traffic lights.
The Toronto-Niagara Bike Train debuts this month -- a bicycle-friendly team of rail cars that trundles between Toronto's Union Station and downtown Niagara Falls.
Labels: news


Ride for Heart: Cycling Ladies
A new transportation plan aims to reduce fine particle and NO2 emissions by 15%. One of the proposed measures is to promote the use of bicycles for inner city distribution
As the rides have grown, some feel that Critical Mass has strayed from its original altruistic roots and has become 'just another big bike-a-thon'. Others have been offended by public drunkenness, nudity, noisy sound systems and ill manners that now are all too common on many mass rides.
If women on bikes are the barometer of a bike-friendly city, a grassroots effort to improve conditions for and understanding of female cyclists hopes to increase the pressure.
The Portland Wheelmen Touring Club (PWTC) wants to encourage families and novice riders to explore local bike routes and get more comfortable on group rides and they're doing it by offering a series of short, slow-paced rides that are perfect for families
Labels: elsewhere
posted by Joe on Monday, July 02, 2007

Ride for Heart: Even More Riders
Labels: photooftheday, photos