Fixie
Labels: photooftheday, photos
Although Saturday was somewhat wet and rainy, I still needed to get out there for a long ride after a long winter. I decided to see if I could get to the Etobicoke/Mississauga border via the waterfront Martin-Goodman trail from the Coxwell/Lakeshore area.
I've embedded a slideshow below... I took photos every 10 minutes to document the trip. You can read some description of the photos
in the Flickr photoset
.
Bikechain
is soon ready to re-open for the summer season, and we are seeking a part-time summer Coordinator. We are looking for someone who is enthusiatic about sustainable transportation and is experienced with managing volunteers.
The position will start immediately and run until September 5th, with the possibility of extension.
If you are interested, please send me a copy of your resume along with a cover letter explaining relevant experience and why you would be a good fit for this job.
Duration:
P/T May 7- September 5th (roughly 25 hours/week) with possibility of extension
Remuneration:
12.00/hour
Address:
33 St. George
Telephone:
416-978-6849 Fax: 416-978-3884
Organization's Website:
www.sustainability.utoronto.ca
CONTACT PERSON
:
Name:
Carlene Thatcher-Martin
Title:
Sustainable Transportation Coordinator
Email address:
Bikechain@utoronto.ca
Labels: news
Tomorrow is May 1st.
Tomorrow is when something new hits the Toronto bike world. Both online and in real-life.
Are you excited yet?
Labels: news
posted by Joe on Sunday, April 29, 2007

Parkdale Bicycles
Labels: photooftheday, photos
posted by Joe on Saturday, April 28, 2007

Parkdale
Labels: photooftheday, photos
Bike Action
Labels: photooftheday, photos
Martino already has photos up
from the
Grassroots
Bikers Breakfast
this morning at their Bloor & Brunswick Store (a
BikeFriday
event, of course...)
Check them out
- they're good! Thanks Tino!
Labels: bikefriday, events, news
Have you all marked your calendars?
Tuesday, May 1st
marks the launch of something new and extremely bikey in Toronto.
It'll be fun too. :)
Labels: news
One dies in collision
Related:
Motor Vehicle Crashes Take Toll on Orthopaedic Health
According to Transport Canada, approximately 210,000 Canadians are injured in traffic incidents every year. For people under 25, the numbers are particularly alarming. This age group accounts for 24% of all drivers killed or injured, 44% of passengers killed, and 47% of passengers injured.

Almost half of severe injuries in Canada, reports the Canadian Institute for Health Information (CIHI), result from motor vehicle crashes. The CIHI report says major trauma patients most commonly suffer head injuries, followed closely by orthopaedic injuries.

Whether you're the cause of a crash or the victim of someone else's bad driving, Berg says, these crashes always come down to poor decision making - things like speeding, drunk driving, distracted driving, unsafe passing, following too closely, or running stop signs or traffic lights.
About Toronto's Weekly Carnage:


Toronto's Weekly Carnage is inspired by NYC's Streetsblog Weekly Carnage feature. The aim of this series of posts is to bring attention to the death and destruction wrought by automobiles and an auto-centric culture. Pursuing policies promoting walking, cycling and public transit could help reduce the carnage.
Labels: carnage
posted by Joe on Thursday, April 26, 2007

Rear View
Labels: photooftheday, photos
Facebook
seems to be "the" social networking site of the moment, so
BikeFriday
has a
group and lots of events
on there. If you're a facebookian, you can join
the group
or let us know you'd want to attend certain events:
Labels: bikefriday


The Best Type of Traffic Jam: The Bicycle Conga Line

Photo taken by Darren Stehr and posted on Martino's Bike Lane Diary:

"This is College west bound, before Spadina. Never seen it so thick before.
There were a lot of angry drivers out there. Could not figure out why until I crossed Dundas and realized that the cars were upset about the delays- Dundas is closed. I was in another conga line on Queen when three different cars tried to take us out. One guy tried to ram us. Which resulted in a big fight with his girlfriend. She asked where the cyclists were supposed to go, he replied, "I do not fucking care but not on the road!" Think he slept on the couch last night. Everyone in the conga line was laughing cause he was blocked in traffic and we were already blocks away.
I love conga lines."
Labels: photooftheday, photos
6 Days until the
Next Big Toronto Bike Thing
...
Next
Tuesday, May 1st
, is when it officially launches.
I'd write more, but that would spoil the surprise... so I'll just keep counting down for you. :)
Labels: news
On The Boardwalk
(The photographer in me loves this photo, but it makes the cyclist in me shudder. There's a dedicated cycling and rollerblading path where the photographer is, but this cyclist is on the lumpy-bumpy, pedestrian-only boardwalk. It's akin to sidewalk cycling in the Beaches.)

Labels: photooftheday, photos
Some of you know what the "
Next Big Thing
" is... I alluded to it
here
and
here
, but for those of you who don't, it's coming in just 7 days.
May 1st
is the official launch. Mark your calendars. :)
Labels: news
News about
BikeFriday
!
Great news from Queen West and Parkdale:
In addition to the hip and groovy
Queen West BikePool
that is meeting up at
8:30 AM
at the Parkdale Library (
1303 Queen West
) to head downtown together this friday, April 27th, some local politicians are getting involved!
Peggy Nash
,
MP for Parkdale-HighPark
and her people are setting up a Breakfast for Cyclists at the Parkdale Library on BikeFriday between
8-9 AM
- so you can head down, get some nice breakfast treats (
for FREE!
), and then have some buddies to ride downtown with!
Also,
Gord Perks
, city councillor for the area is reportedly going to be there too.
Labels: bikefriday, events, news
posted by Joe on Monday, April 23, 2007

In the rain
Labels: photooftheday, photos
posted by Joe on Sunday, April 22, 2007

Soggy Ravines
Labels: photooftheday, photos
posted by Joe on Saturday, April 21, 2007

The Toronto Islands, sometime in the 1930s
Labels: photooftheday, photos

Toronto: City of Bicycles
Labels: photooftheday, photos
From the BikingToronto Inbox today:


Hello all, Sandra Bussin need to hear from you regarding safety for pedestrians and cyclists on Leslie St. between Queen and Lakeshore Blvd.
As you may know, the South East Toronto Bicycle User Group (a.k.a. Dundas EAST) met several times. They are asking for bike lanes on Leslie Ave. so that pedestrians and cyclists, children and seniors can enjoy a safe connection to the Loblaws / Price Chopper retail district and the wonderfully renovated Martin Goodman Trail from Leslieville and beyond. Eastern and Leslie are dangerous for cyclists and pedestrians. Last year Isaac Morkel was killed on his bike while crossing Eastern at Leslie by a truck making an illegal left turn.
Unfortunately, Leslie St. is split between Councillors Fletcher (supportive of bike lanes) and Bussin in the Beaches (not supportive of bike lanes). Eastern has the same challenge.


Sandra Bussin, deputy Mayor and Beaches Councillor is not supportive of bike lanes on Leslie or Eastern as outlined in the Now Magazine article a few weeks back.
Here's an excerpt from the article:
http://www.nowtoronto.com/issues/2007-03-22/news_story5.php
Then there's Bussin's opposition to lanes on Leslie. "Sandra has the other half of that," Fletcher says, referring to the fact that Leslie divides their wards, "and she doesn't support it."

Bussin says Leslie is too complicated, and the lights at Loblaws only make it worse. "The original plan is the wise one: having a lane on Knox. It provides that north route and it's only a block and a half east of Leslie."

Bussin calls Fletcher's Eastern bike lane "industrious," but she's skeptical. "To use [bike lanes on] Eastern as a tool to stop traffic is not a good idea. It's going to create confusion, and trucks will go on Queen."

Bussin suspects that Fletcher's bike lane proposal is an attempt to fend off an influx of mega-stores. Coincidentally, Toronto Film Studios on Eastern has recently sold its site to big-box developer SmartCentres. A monstrous Canadian Tire already sits on Leslie awaiting its official unveiling.

"I don't think you should be using cyclists to traffic calm in an attempt to stop big-box deliveries," says Bussin. She further questions the approach of "rallying activists'', noting that the best solution is to leave the matter of box stores up to the oracle at the OMB. Ha!

But David Dunn of the city's transportation services says it's "not impossible to accommodate bike lanes on Leslie.'' If it can be done on Eastern, which has more than twice the traffic and is two metres narrower, it can be done on Leslie. "But it's very busy and there's lot's of turning movements."
IF YOU ARE SUPPORTIVE OF MAKING LESLIE AND EATERN MORE BIKE AND PEDESTRIAN FREINDLY PLEASE CONTACT COUNCILLOR BUSSIN AND EXPLAIN WHY - ESPECIALLY IF YOU ARE IN HER WARD.

THIS IS AN INVITATION FROM HER TO YOU . . .
Good Morning Residents,

Drop-in to my Constituency Evenings at Community Centre 55 —97 Main Street at Swanwick Avenue.

Due to the Mayor's Special Budget meeting scheduled for this Monday, the Constituency Evening has been changed to Monday April 30th from 6-8 PM.

I look forward to meeting you.

Sincerely,

Sandra

********************************************************************************

SANDRA BUSSIN
Speaker, Toronto City Council
City Councillor, Beaches - East York - Ward 32
100 Queen St. West, Suite B28
Toronto ON M5H 2N2


sbussin@toronto.ca


PHONE: 416-392-1376
FAX: 416-392-7444
Labels: infrastructure, news, politics
Councillor Joe Mihevc and Toronto Transportation staff invite you to attend a Public Open House to review and provide comments on the proposed bicycle facilities in Ward 21.


Date: Wednesday May 2, 2007
Place: Rakoczi House – 747 St. Clair Avenue West

The key routes include:
·
a signed route on Vaughan Road
·
an east-west signed route that connects to the proposed Rogers Road bike lanes
·
an east-west signed route parallel to St. Clair Avenue
·
a north-south route on Christie Street with bike lanes
Bike Lane Proposal on Christie Street – St. Clair Avenue W to Dupont Street:
From St. Clair Avenue West to Davenport Road, bicycle lanes can be added to Christie Street with minimal impact on traffic or parking. The most significant change associated with the bicycle lane proposal will be a reduction in traffic lanes from two to one in each direction for the section of Christie Street south of Davenport Road. Parking for this section will also be limited to one side of the street. Stopping will be prohibited on the west side of the street, and parking permitted at all times on the east side.
The proposed bike lane design would result in the following cross-section south of Davenport Road:
Toronto Transportation staff will be submitting a report to the Toronto and East York Community Council meeting of May 29, 2007 on the bicycle lanes and related parking and stopping regulations.

If you are unable to attend the Public Open House but would like to provide us with your comments, please fill out the attached feedback form and send your response to David Dunn, Transportation Services by mail or email to bikeplan@toronto.ca or fax to 416-392-4808. Please return by May 9, 2007.

Labels: events, infrastructure, news
About Toronto's Weekly Carnage:


Toronto's Weekly Carnage is inspired by NYC's Streetsblog Weekly Carnage feature. The aim of this series of posts is to bring attention to the death and destruction wrought by automobiles and an auto-centric culture. Pursuing policies promoting walking, cycling and public transit could help reduce the carnage.
Labels: carnage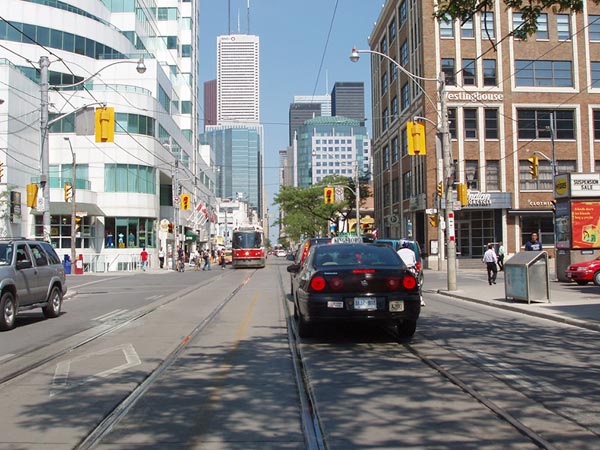 I don't see anything in the news about last nights
King Street Transit Mall Community Consultation
other than
this piece in the Post
... so I'm wondering if anyone besides autocentric and narrowminded business owners went (please note that I'm not calling all business owners autocentric and narrowminded - just the ones who think that cars go to restaurants and shows and buy stuff... it's PEOPLE who do these things... PEOPLE!):
"I have yet to decide if this is a good or bad proposal. But it has many challenges ahead of it, especially for restaurants, especially for residents," Mr. Vaughan said. "The TTC needs to slow down and listen to the community."

And the community -- at least judging by the attendees at last night's meeting-- was not pleased.

One attendee at the meeting said: "This is a very difficult place to undertake this. I am surprised that they chose this street to attempt it. This is madness."

He said the plan could ultimately close down the theatres in the entertainment district -- one of Toronto's most popular tourist destinations -- because patrons will be unable to reach the theatre by car.

A lawyer representing the Holiday Inn on King and Peter streets, asked Mr. Giambrone how a tourist unfamiliar with the city could reach the area and park.
Make an area about people (not cars) and reap the financial riches. If you're afraid of what you don't know, let these links educate you:
(graphic courtesy of BikeToronto)
Biking through Cherry Beach is one of the nicest rides along the waterfront, but the
Martin-Goodman trail is closed for soil remediation
for April and May:
From April - May, 2007, portions of the Martin Goodman Trail, as well as the entire east parking lot at Cherry Beach, will be closed so the environmental restoration work can take place.





The work is necessary to remove contaminants that are floating on the groundwater. Proven technologies are being used to address the contamination. This involves digging trenches and installing a pumping system to pump the contaminated groundwater to a treatment station on the former Safety Kleen site where the contaminants will be screened, filtered, and treated appropriately. The contaminated material will then be securely shipped to a licensed treatment facility on a regular basis.
Cherry Beach
has been called the cleanest part of Lake Ontario in Toronto (I learned this in my dragonboating days...), so it's rather sad that there's a bunch of nasty chemicals and stuff underground that the
TWRC
wants to clean up before making it part of
Lake Ontario Park
, filled with sports fields and such.
Anyhow, it'll be atleast June until we can ride through there again - these projects don't often finish on time.
Labels: news
BikeToronto is reporting
that
A.A. Heaps
is one step closer to joining the Toronto Cycling Committee - pretty good news since the "TCC" has been silent since September, due to last November's elections:
At its March 26th, 2007 meeting the Striking Committee of City Council has recommended that

Councillor Adrian Heaps - Ward 35 Scarborough Southwest

be the Council member appointed to the committee. (

See Decision Document Item ST 4.1

) He has expressed interest in supporting cycling in his responses to the

TCAT election survey

. There was one other Councillor who indicated they wanted to be the appointee to the Cycling Committee,

Cliff Jenkins - Ward 25 Don Valley West

. (Councillor Jenkins did not respond to the

TCAT survey

. ) This appointment of Councillor Heaps will not be official until it is approved by Council. The next opportunity to do this will be at their April 24th Council Meeting.
Cliff Jenkins
would be a good choice as well, as he actually pursues bikelanes in his ward, such as last year when he was
exploring the possibilities of a bikelane on Mt. Pleasant
... actually the 2nd time he proposed it, as it was turned down in 2005.
Yesterday was quite fun - I picked up my bike and my wife's bike from
the bikeshop
yesterday after getting them both tuned up, mine cleaned (I had forgotten what it looked like clean, under all the dirt and salt from winter riding) and Tracy's with new hybrid tires.
I decided that since I had never biked on two bikes before, I would try it.
I steered and braked Tracy's bike with the muscles of my right arm all the way home (it was a lot easier than I thought it would be), nicely taking the lane the whole way.
A couple cars passed two closely, but there was a huge difference from when it's just me.
This all expanded on my idea of a cool sidecar for a bike instead of a trailer.
I've seen it done (most recently on
Wheel Revolution
) before, and you may have an idea of what I'm taking about if you watch the
Amazing Race
, as they were in Malaysia a couple weeks ago, picking up recyclables with cool bicycle sidecars (photo).
What I'm thinking of though is building something (when I have more room to build things) where the bike is on the left side and the sidecar is on the right.... I'm thinking this is the best arrangement because I foresee carrying kids in such a thing, and I'd want to be between them and any crazy traffic.
Anyone know if you can buy bicycle sidecars in Toronto? It would be so much more useful than just for carrying kids... you could fit a lot of groceries in there! Also... and this is important... it would be a great traffic-calmer. :)
Labels: personal
Signs of Spring's Approach
Labels: photooftheday, photos
Urbane Cyclist
Labels: photooftheday, photos
Cyclometer
, the City's cycling newsletter, has released the
April 2007 issue
, with lots of good stuff inside:
If you're not already
subscribed to get it by email
, you should be.
Labels: news
TTC Chair Adam Giambrone
mentioned at the
NOW Bike Forum
last week that the TTC would try to incorporate bikelanes into any plans for a
King Street Transit Mall
...
Well, tonight
(Wednesday April 18th, 2007 at 7:30 p.m
.), there will be a Community Consultation Meeting regarding Dedicated Streetcar Lanes on King Street West.
The meeting will be held at City Hall, 100 Queen Street West, in Committee Room 2 on the second floor.

Councillor Adam Vaughan and Toronto Transit Chair, Councillor Adam Giambrone invite you to discuss a proposal for a temporary, reserved right-of-way on a four to five block section of King Street for the summer of 2008. The area under consideration is the Entertainment District on King Street West.
Please attend this meeting and invite your neighbours and friends. If you are unable to attend and would like to voice your opinion or concerns, please contact: Angela Kinnear, Executive Assistant, Councillor Vaughan, at Telephone: 416 392 4044 Fax: 416 392 4130 Email: akinnear@toronto.ca
If you have a chance, get to the meeting and let them know you want bikelanes. Think about how cool that little diagram at the top of this post would look with nice bikelanes between the streetcar tracks and the sidewalks / car traffic.
If you can't make it, phone (416-392-4130) or
email
Councillor Adam Vaughan's assistent Angela to let them know... especially if you live in Adam's Ward!
More info on the King Street Transit Mall:
Labels: infrastructure, news, transit
Buy and sell bikes and bike parts!
Arrive early to drop off your gear, consign it and we'll sell it. It's Earth Day! Do a good thing and get a good deal.
When:
This Sunday, April 22nd, 8 AM - 2PM
Location:
Mountain Equipment Co-op, 400 King Street West (King & Spadina)

Schedule
8-11am - Drop off bike gear for sale
11-2pm - Buy bike gear
2-3pm - Pick up proceeds and unsold gear
We will require sellers to show identification and to sign a consignment form. All proceeds will go to support cycling education with Bikechain at University of Toronto and Toolworks of the Community Bicycle Network.
Volunteers, please email if you are interested in filling in a time
slot between 7am and 4pm.
posted by Joe on Tuesday, April 17, 2007

Petal Pusher
Labels: photooftheday, photos
posted by Joe on Tuesday, April 17, 2007

Hi everyone, here's some site news for you:
Regular readers may remember a
particularly cryptic post from early January
in which I alluded to a "plan" that was hatched amongst
Herb
,
Tanya
,
Tino
and
Darren
(and also with
Vic
and
Tammy T
) to
"work together to take our own individual promotion of cycling in this city to the next level".

I won't spill the metaphorical beans yet, because this is a "teaser" post, but:
The Beans

will be spilled before BikeWeek (so, anytime in the next weeks), but probably sooner rather than later.
You'll see changes in the sidebar of

BikingToronto

as I prepare to incorporate new things into it to keep you informed about everything bikey happening. (You may already have noticed that the BikingToronto Calendar is gone... but don't worry, something calendar-ish will be replacing it...)
So, since
early January
planning has been done, ideas have been thought of, thrown out, expanded, tweaked, and implemented...
... and you will love them. Trust me.
Labels: bikingtoronto, news
Circles & Bikes
Labels: photooftheday, photos
Nice (and pretty large)
article in the Star
over the weekend about actually implementing the
bikeplan
over the next few years:
Labels: infrastructure, news, politics
When
Spacing
does something, they don't fool around. This goes for bikelane parking too.
Check out their
new BikeLane Parking Graphic
. I love it.
(you can click it for different sizes)

Add this to the
new flyers from Torontoist
(
PDF format
), and we've got a pretty good anti-bikelane-parking thing going on here. Let's keep it up.
I encourage everyone to sign-up to
MyBikeLane Toronto
and post photos of bikelane offenders. A quick couple of snaps with your camera or cellphone to show the infraction AND the license plate gets it done.
It's fun
.
Labels: infrastructure, news
posted by Joe on Sunday, April 15, 2007

Runnymede Bicycles
Labels: photooftheday, photos
posted by Joe on Saturday, April 14, 2007

Better then waiting for transit...
Labels: photooftheday, photos
The Orange Bike is Back
Labels: photooftheday, photos
The
Toronto Coalition for Active Transport
recently is awash in cash from an environmental organization (I can't remember which one right now) for all their good efforts in pushing pro-cycling, walking and transit initiatives in Toronto - and are looking for a
Program Co-ordinator
now (yes, this will be a
paid
position).
I'll cut and paste the job description here for you - it doesn't look to be online anywhere else... only bouncing around in emails.
---
Toronto Coalition for Active Transportation (TCAT)

Project Coordinator
TCAT was formed in 2006 to give a unified voice to the many groups working for a better cycling and pedestrian environment in Toronto. TCAT's role is to provide a moderate but firm, non-partisan voice in the City's transportation planning processes. TCAT aims to be recognized for its informed and articulate policy expertise. TCAT's communication goals are to encourage municipal decision-makers to vote in favour of the policies and projects they supported in TCAT's election surveys, to carry out focused campaigns to ensure implementation of key priorities, and to leverage complementary activities from its member organizations. With
funding from the Toronto Community Foundation, a project coordinator is required to assist TCAT through its start-up phase to develop a focused, strategic action plan to secure City commitment for a continuous and safe active transportation network in Toronto.
The Project Coordinator will report to and take direction from the Steering Committee and perform tasks under the following general headings:
Research: Gather information using survey research, literature review,
information interviews, etc., on subjects including but not limited to:
• Municipal decision making processes in the City of Toronto
• Pedestrian and cycling policies and programs in other jurisdictions
• Background information related to deputations
• Informing the Steering Committee of current events or upcoming issues
• Identifying and pursuing new funding opportunities for TCAT
• Undertaking a membership survey to profile TCAT members and determine
how they are willing and able to contribute to TCAT efforts
Administration: Provide administrative support for the organization,
including, but not limited to:
• Organizing, coordinating and attending meetings (including a strategic
planning session and TCAT's Annual General Meeting)
• Preparing agendas and minutes
• Arranging facilities, equipment and catering for meetings
• Serving as a liaison between the Steering Committee and IT consultant
• Preparing periodic reports and invoices for funders
Communications: Prepare and facilitate communications for the
organizations, including but not limited to:
• Developing and adhering to TCAT's communication strategy
• Developing visual materials to illustrate and communicate research findings
• Fielding and directing inquiries from coalition members, the public,
government and other organizations
• Preparing information and/or press kits for media, politicians, etc.
around specific issues or campaigns
Advocacy: Identify and coordinate opportunities for TCAT to participate in
strategic events, etc., including but not limited to:
• Developing recommendations for the 2008 & 2009 City Budgets, after
reviewing 2007 City Budget results against TCAT Platform items.
• Working with the Cycling and Pedestrian committees to forward
recommendations to the Planning and Growth Management Committee in time to
be transmitted to the 2008 and 2009 City Budget Process.
• Flagging and creating opportunities for Councillors, especially those on
the Executive Committee and Budget Committee, to improve conditions for
active transportation.
• Organizing TCAT's advocacy campaigns and develop a tool for measuring
the progress TCAT is making on promoting its platform and having action
taken to achieve it.
Terms of contract:
• Compensation - $29,000 to $33,500
• 31 to 42 week contract, beginning in May 2007, with possible extension subject to funding
• 22.5-37.5hrs/week, distribution of hours to be negotiated
• Including some evening and possibly weekend hours
• The successful candidate will need to work from home for at least a
portion of the time
Qualifications:
• Prior knowledge of, or experience with municipal politics in Toronto, particularly as it relates to active transportation issues
• Prior knowledge of or experience with program administration for advocacy/non-profit organizations
• Superior written and oral communications skills
• Demonstrated ability to establish and maintain professional relationships with diplomacy and tact
• Demonstrated ability to work independently to balance multiple demands with a keen sense of quality and deadlines
• Experience researching funding sources and writing funding proposals and reports
• Familiarity with word processing, spreadsheets, graphics software and other office equipment
• Candidates should be committed to cycling and walking as healthy, sustainable modes of transportation.
Please visit TCAT's website at
www.TorontoCAT.ca
to learn more about our coalition platform.
How to Apply:
Interested candidates should submit a resume and cover letter on or before
12 pm on April 23rd
to
info@torontocat.ca
Labels: advocacy
You may remember me posting about a month ago about
MyBikeLane.com
, a site
"conceived after repeated frustration at having to dodge cars illegally parked in the bike lanes. Several near crash experiences as a result of people too lazy to find valid parking motivated [the creation of] this site."


While my regular commute doesn't take me on a lot of bikelanes, I have started carrying a camera most days, so when I saw 3 trucks parked in the bikelane on the
north side of College between Bay & Elizabeth
(a 100 metre stretch), I started snapping, and I just posted them to the
Toronto MyBikeLane site
:
Purolator
Canada Post
(which pulled right up behind the Purolater Truck as I was taking photos)
Fed Ex
More info about MyBikeLane, from the site:

MyBikelane is built on the notion that:

Cyclists are sick of having to dodge cars and trucks using the bikelane illegally.
These illegally parked cars force cyclists into traffic, making their commute more dangerous.
Those cyclists have cameras or cell phones w/ cameras.
Using the power of the community, we can hopefully make the problem more obvious and get the city to do something about it.
This makes it safer to cycle for fun or to commute.

How MyBikelane works:

You the cyclist see a car parked illegally.
You snap a picture, taking care to capture the license plate of the vehicle and proof that the vehicle is parked illegally.
You upload the photo, tell us when and where the incident occurred and the license plate info.
We make the site available to media, city officials, and the web to show the problem.
MyBikeLane.com
Labels: infrastructure, safety
(photo courtesy of BlogTO)
Okay... I was going to write up a nice re-cap of the
NOW Bike Forum
on Wednesday night, but BlogTO has
already done a great job - so read that
. :)
A few observations from me:
1) The whole thing was generally optimistic. While cycling is often the forgotten child of Toronto road uses, and while at present we are perceived to be "losing the fight", there is enough optimism, enthusiasm, energy and planning in the cycling community that I believe most of us got a "dark cloud with a silver lining" vibe from the whole evening.
2) Adam Giambrone, although pretty unpopular with some segments of the cycling community, came off pretty well. He acknowledged that bike stuff is underfunded and that there has been political laziness when it comes to cycling issues, but also offered a lot of hope:
that community councils and opposition (Case Ootes comes to mind) can no longer halt bikelane creation because although a bikelane may be in one part of the city, it benefits the city as a whole.
that city cycling staff has recently been increased from 1 to 5 employees
that 25-28 km of bikelanes will most likely be built this year
that all new buses the TTC is getting now will have bikeracks - meaning every single bus in the system will have racks by around 2011.
that they are looking at ways to get bikeracks on the new generation of streetcars - either on the outside or the inside
that there are plans to incorporate temporary bikelanes into the temporary King St. Transit Mall planned for next summer
and, that he'd be totally fine with taking all the parking off of Bloor West in his Ward to allow for the first part of the Tooker Bikelanes to be implemented
Finally, if you haven't seen it yet,
NOW Magazine
is all
about bikes this week
- the
post previous to this one
has links to all the stuff.
Labels: events, news, politics
Check out the current issue of
NOW Magazine
- it's a biketopia in there!
The Bike Issue: Cover Story
The NOW commuter challenge
Bike, car or TTC – which way is really the better way?
Top 10 dream lanes
If T.O.'s serious about boosting pedal power, it needs to make way for these must-do paths
Trailing behind
How Toronto's Bike Plan stacks up against other major cities.
NOW'S TOP 10 CITY CYCLING SAFETY TIPS
Life without a car
The Sinclair-Di Iorio family have cycled the globe, but they still get a kick from riding to the store
Pedal Pusher
Bikes just get better
Developing technologies are making tires more durable and frames lighter then ever
Cycling index
NOW's bike directory tracks all the clubs, organizations and services committed to cycling
Cycling calendar
Take action at these races, rides and more!
Labels: news


Related:
About Toronto's Weekly Carnage:


Toronto's Weekly Carnage is inspired by NYC's Streetsblog Weekly Carnage feature. The aim of this series of posts is to bring attention to the death and destruction wrought by automobiles and an auto-centric culture. Pursuing policies promoting walking, cycling and public transit could help reduce the carnage.
Labels: carnage
posted by Joe on Thursday, April 12, 2007

View of a second floor in Kensington
Labels: photooftheday, photos
The Humber Trail, near Dundas
Labels: photooftheday, photos
The wenches are back
!
---

You WISH you WENCHED like a GIRL!
2007 Season Ready to Roll!

Wenches with Wrenches is an ongoing program of CBN volunteers who host bicycle repair workshops run by and for women in downtown Toronto. The idea has been to make basic bicycle repair skills accessible to women in the hope that participants will then share their knowledge and their confidence with others in the community

Wenches with Wrenches brings women together in a safe, non-competitive and friendly learning environment. The workshops are run by women for women because, many times, women are just more comfortable learning from other women.

---
View all the details on the
Community Bicycle Network website
, including dates, times and topics!
Wenches With Wrenches are always looking for more people to join our group! You don't need any mechanical experience to become a Wench; just a smile and a readiness to help out and learn.


AND, they even have a
Wench Mailing List
!
Wench it up!
Some of you may remember the funky
Parkdale Bikerack sculptures
I took pictures of during the
Smells of Toronto Ride
last year... well happily, the bikerack sculpture program has been expanded!
Found in the
BikingToronto Mail Box
this morning:
Along with crocuses, roses and tulips that are emerging in gardens across Toronto, a crop of unique and functional public art is springing up in Parkdale.



Known as bike rack sculptures, these colourful and creative elements of street furniture are sprouting in various locations in Parkdale, taking the form of a tree, butterfly, gargoyle and other inventive shapes and designs. Four racks have already popped up at 1499 Queen St. W. in front of Parkdale Activity Recreation Centre (PARC), a community centre offering support to psychiatric survivors and people who are socially isolated.

Ten additional racks will be installed at the Parkdale Village Business Improvement Area office (PVBIA) on Queen Street West between Dufferin Street and Roncesvalles Avenue.
The Unveiling Info:


When:
Monday, April 16, 2007 at 11:00 AM
Where:
Parkdale Library (
1303 Queen Street West at Cowan Avenue)



Contact Info:



Devin
Horne
, Coordinator, Parkdale Village Business Improvement Area, 416.536.6918
www.parkdalevillagebia.com
Labels: events, infrastructure, news
Torontoist Marc Lostracco
posted a great article
a couple weeks ago that I've been meaning to post about for awhile... about the sad state of roads and specifically bikelanes in Toronto:
Probably the most staggeringly stupid allowance is how contractors tearing-up the road surface aren't required to return it to its original state, but only to an alleged "good condition"—read: for cars. This is presumably on account of the significant cost—to resurface a road costs about $1 million per kilometer ($3 million per kilometer for total reconstruction)—but as a result, we are left with ugly, bumpy, zig-zagging scars because Bell needed to lay some new cable or City contractors needed to make a utility cut.
Go and check out the whole thing
... I'd cut and paste the whole thing ideally.
Marc and the Torontoist gang
are going further
than just complaining about the state of bikelanes and all the jerks who park in them - they have posted
a handy-dandy PDF flyer
that we cyclists can print off and carry in our bike bags, panniers, pockets, etc. and stick on the windsheilds of the offenders!
Lots of interesting
comments on the post
too!
Labels: infrastructure, news
Toronto Island Homes
Labels: photooftheday, photos
---


The Toronto Star

---
Here's a simple idea from a guy (me) that apparently an entire city bureaucracy with recently granted funding powers can't come up with to support a "very worthwhile, small, non-profit group":
The
Toronto Parking Authority
takes in over $90 million dollars in revenue every year from parking spaces in this city - with a profit of about $40 million (source:
2005 TPA Annual Report - PDF Format
)
To produce $80,000 - you could add a 0.2% increase to parking fees. That's 1/5th of a penny for a $1/hour parking spot. 3/5ths of a penny for the city's most expensive spots which are $3/hour.
Oh, and this idea adds to the cost of operating a private motor vehicle in Toronto - don't we want to be
The Greenest City in North America
? I don't think we do - because there's a ton of
simple solutions to provide cheap and plentiful bikes
to all Torontonians, but no politician seems to want to think about it for a couple minutes.
Labels: infrastructure, news, politics
posted by Joe on Monday, April 09, 2007

The end of the Humber Trail
Labels: photooftheday, photos
posted by Joe on Monday, April 09, 2007

NOW Magazine
is hosting a
Town Hall this Wednesday evening
about the sometimes seemingly impossible battle to get substantial cycling infrastructure in this city.
At first, I thought the title of this event was a bit over-the-top, but when a getting a bikelane painted anywhere in this city is a struggle (rather than an ordinary and common-sense event, as it should be...), it makes sense.
Bikeable City: Are We Losing the Fight?


Adam Giambrone city councillor;
Tanya Quinn crazybikerchick;
Dan Egan manager, pedestrian and

cycling

infrastructure;
Wayne Scott Tor Hoof and Cycle Courier Coalition;
Darren Stehr ARC;
Hamish Wilson, member of the Toronto Cycling Committee and Take The Tooker

Wednesday April 11, 7 pm
NOW lounge - 189 Church St.

posted by Joe on Sunday, April 08, 2007

Iconic Ring & Post
Labels: photooftheday, photos
posted by Joe on Saturday, April 07, 2007

Red Ryder
Labels: photooftheday, photos
Only 3 weeks until the next
BikeFriday
on April 27th!
March 30th was a lot of fun... here's some great photos and stuff of it:
The Danforth & Woodbine BikePool
and
Grassroots Bikers Breakfast:


I
took a few photos
on dying batteries while we were stopped at the
Grassroots Bikers Breakfast
at Danforth & Chester (you can click them to see them larger).
Grassroots
alternates the Breakfast between their stores - so on April 27th, the breakfast will be at the Annex store (
Bloor & Brunswick
).
Bloor & HighPark to Mississauga City Centre:
A few photos from Vic Gedris - who rode an actual
BikeFriday Bike
on
BikeFriday
!
Bloor & HighPark to downtown:
Martino (of
BikeLaneDiary
) took a few too!
Critical Mass:
Critical Mass takes place on the last friday of every month in over 400 cities around the world.
Toronto's
, on March 30th was the largest it's ever been, starting with about 100 cyclists and growing to over 200 as people joined up.
Martino has a
lot of great photos here
and
CityNews has a story
and
video
on it too!
Labels: bikefriday, news

BMXing at the Toronto Bike Show
Labels: photooftheday, photos
About Toronto's Weekly Carnage:


Toronto's Weekly Carnage is inspired by NYC's Streetsblog Weekly Carnage feature. The aim of this series of posts is to bring attention to the death and destruction wrought by automobiles and an auto-centric culture. Pursuing policies promoting walking, cycling and public transit could help reduce the carnage.
Labels: carnage
posted by Joe on Thursday, April 05, 2007

The Finals of the IceBike Races
Labels: photooftheday, photos
I bet the title of this post got you all excited, eh? Especially after I posted about the
possibility of Yonge Street losing a lane
(and gaining sidewalk) a couple weeks ago...
It looks like Yonge Street may be getting bikelanes, but
it's only from Front to Queens Quay
.
Sure, it would be nice to have bikelanes all the way from the waterfront right up to Steeles (or farther!), but this is a good start. It's an important "connector" between downtown and the waterfront, providing cyclists with a slightly safer way of getting to
the Waterfront and the Martin-Goodman Trail
.
More importantly, no part of Yonge Street is on the plans for the
Bikeway Network
... so cycling advocates here in our fair city are hoping that this may be a precedent for a nice continuous east-west bikelane
along Bloor and the Danforth
!
Labels: infrastructure, news
At the IceBike Races
Labels: photooftheday, photos
In the BikingToronto Inbox this morning:
---

Building on the momentum from our first meeting in February, I would like to invite you to the next round of discussion and planning about Lake Ontario Park and whatthis means to the cycling community. I encourage you all to get active and be heard, since the Toronto Waterfront Revitalization Corp. (the 'builder' of the Park) is quite open to our suggestions at this time.



WHEN:


Thursday, April 5, 7-9 PM



WHERE:


Pandarvis Room, International Student Centre @ 33 St. George St.
(just north of College)



The idea is to discuss how we, as cyclists, envision the waterfront as a recreation destination.

Aside from the obvious issue of cycling access and connectivity to the (eastern) waterfront, which is also up for discussion, here's a recap of some suggestions from our first meeting:


Trail construction that naturally encourages users moving at different speeds to separate themselves (e.g. using different colour/material for different bands of each lane)
Trail wide enough to *comfortably* accommodate multiple types of users in both directions (i.e. wider than many existing trails)
Ensuring distance between dog off-leash areas and the trail to minimize collisions (ie. don't have trail running through the middle of a field)
A trail layout that has unobstructed sight lines
Appropriate road width and smooth road surfaces to accommodate road cyclists (typically doing time trial training), even for relocated roads that may not, technically, be inside the new park perimeter.


For more info about Lake Ontario Park, these PDFs should do the trick:

http://www.towaterfront.ca/dbdocs//45b1277ce7719.pdf
http://www.towaterfront.ca/dbdocs//45b7b7d904644.pdf

---



(Image courtesy of the Spacing Wire)
I posted
about this last week
, but thought I'd do it again because I think the City is being short-sighted and being ripped off by
this whole Street Furniture thing
.
Above is one of the proposed bikeracks, although nothing is wrong with our iconic post-and-rings. Other things advertising companies are proposing are bus shelters (didn't we just get new ones?), newspaper boxes (I personally like what the current colourful varieties add to the streetscape) and "InfoPillars", which seem to be billboards with a map on the back.
Yeah, we're asking advertising companies to give us all this stuff and they get the right to slap their ads all over the place.
But... BUT... the deal SUCKS. Cities all over the world do this, but actually GET something out of it... take Paris,
who is getting 10,000 community bicycles in exchange for advertising rights
!
THAT is how you dole out street furniture contracts. Not by replacing things that don't need replacing, but by getting something that is beneficial to the city.
With the City not funding the
BikeShare program
, which is now pretty dead, as well as wanting to be "
The Greenest City in North America
" and reducing Greenhouse Gases by 20%... isn't this a "duh...?" moment?
It's come out that there will be a brief
12-hour public display of the proposed furniture
,
Wednesday at City Hall from 8:30am-8:30pm
.
AND... although the City doesn't want public input, we can submit it anyways!
Torontoist did the legwork and tracked down the email addresses
of the people judging the furniture bids.
Email them
... let them know what you think. If you think that Toronto should be getting more than just more advertising space for companies
that continually break the law
, DEFINITELY let them know.
You never know...
they may listen to you
.
Labels: infrastructure, news
Out in the snow
(Yeah, I know people are tired of winter photos but variety is good, and winter cycling is fun!)
Labels: photooftheday, photos
Other than the cycling groups over at the
Toronto Bicycle Network
, the
Gay West Bicycle Club
may just be the largest in Toronto, but I don't know for sure. What I do know for sure is that the
GWBC
is gearing up for 2007:
Gay West Bicycle Club

is the only gay, lesbian and bisexual dedicated bicycling club in the province of Ontario. Now entering it's fourth year in 2007 with close to 100 registered members.
They have their first ride of 2007 planned for
12-3 PM on April 29th
. Be sure and let anyone you think may be interested know:
"First ride for 2007 season takes place on Sunday April 29-Noon until 3PM"

We start off at

Sunnyside Pavilion

then make our way up the Humber River to just south of Lawrence Ave, where the

Hurricane Hazel monument

is located. For those who don't know what Hurricane Hazel was, surf over to

www.hurricanehazel.ca

. We then make our way west along the Eglinton Ave bike path, south along the bike lanes of Royal York Avenue in Etobicoke, through the ever so posh Kingsway Village area, then back east via several side streets. We'll then gather for an après-ride mix and mingle somewhere in the west end of the city.
The GWBC are also the co-ordinators of the Annual Toronto Pride Ride
happening on
Sunday June 17th
.
Out of town visitors are welcome to join any of the club meets.


Please RSVP to
gwbikeclub@hotmail.com
if you will be attending.
A lot of cyclists in Toronto are familiar with the intersection of Bloor & Spadina... the giant dominoes, the gardens, and the oasis from traffic at a busy intersection... but perhaps most significantly, it's the startpoint for
Critical Mass
on the last friday of every month (
BikeFriday
).
The above photo is from around 1960, courtesy of the
Spacing Wire
. It's looking southbound. The intersection is almost unrecognizable, except for the Jewish Community Centre on the right.
As a contrast to this autocentric, pedestrian unfriendly and asphalt nightmare that Bloor and Spadina used to be, below is the opposite view of this intersection, taken by
Martino
last friday:
(you can click it for a larger version - the person who took the 1960 shot was probably standing in front of where the Scotiabank is now...)
The actual Critical Mass ride on Friday was pretty fun. There were about 100 people when it started, but that soon grew to 200+ as people joined the ride. The ride made it's way eventually to Bloor & Dufferin for a re-installation of a Ghost Bike, and then continued on it's way.
CityTV was there, and there news story about it
was pretty well done
- focusing on the fact that drivers need to be careful to avoid more cyclist and pedestrian deaths.
Labels: bikefriday, events, news
posted by Joe on Monday, April 02, 2007

Walking the Bike
Labels: photooftheday, photos
posted by Joe on Sunday, April 01, 2007

Labels: photooftheday, photos
On The Blog
Every friday, BikingToronto takes all the bike news and sends it to your inbox.